West Indies fast bowling legend Andy Roberts is baffled as to why young Indian pacers suddenly lose speed after showing early promise and start "spinning the ball".
He cites Munaf Patel as a most recent example.
"When Munaf Patel came here in 2006 he had some pace," said Roberts wryly. "Now he is spinning the ball!"
Roberts was speaking from his experience of having worked with Irfan Pathan briefly during India's 2006 tour, after the then coach, Greg Chappell, requested him to look at the left-arm seamer's problems.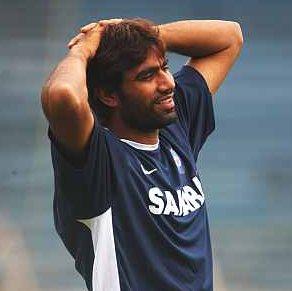 "You have to remember this happens only once they make it to international stage. Maybe, they are better off without these coaches.
"These coaches turn you into a line-and-length bowler, not what you naturally are. These boys then lose their ability."
Roberts, who claimed 202 wickets from 47 Tests at an average of 25.61, is hailed as the father of fearsome West Indian fast bowlers of the 70s and 80s. And he certainly is unimpressed with the fast bowling in world cricket presently.
"Shaun Tait throws his arm. Dale Steyn, whom I like, also occasionally throws his arm. Less said about the West Indian pacemen the better. The likes of Kemar Roach, Jerome Taylor and Fidel Edwards are not running in fast enough at the batsmen," he said.
"They saw Curtly Ambrose run in smoothly and ping the ball. But he could do it because he was so very strong. Others must run in hard in their run-ups.
"There are two ways to bowl fast: either you steam in or you have a lot of strength to bowl even if you are relaxed in your run-up," Roberts explained.
Roberts is dismissive of the notion that today's cricketers play a great volume of cricket.
"Too much cricket? They play mostly Twenty20s and one-dayers. It's 4 or 10 overs a match!"