Rahul Dravid became the second batsman to score 13, 000 Test runs.
The 38-year-old Indian batting ace attained the landmark when he got to 23, with a boundary off Darren Sammy, on Day 3 in the third and final Test against the West Indies at the Wankhede stadium on Thursday.
Needing 21 runs when he went in to bat, Dravid achieved the milestone in his 160th Test and 277th innings.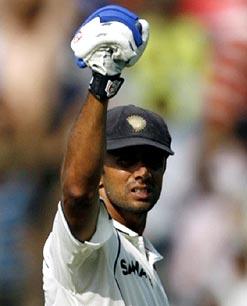 Only compatriot Sachin Tendulkar (15, 086 runs) has scored more runs in Test cricket.
- Rahul Dravid: Team India's firewall
Dravid's five centuries in his last 10 matches have taken him past legends like Sunil Gavaskar and Brian Lara (34 each) to the fourth spot in the list of most Test centuries, with 36.
He was the only positive for India in what was an otherwise disastrous tour of England earlier this year, aggregating 461 runs in four Tests (76.83), with three centuries to boot.
The veteran batsman, who has scored more runs in Test cricket than any other batsman this year, was named for the 'Polly Umrigar award', for the best Indian cricketer 2010-11, on Wednesday evening.
Dravid also holds the record for most catches by a fielder in Test cricket (209).