A debut can be a nervy affair at the best of times; but not for Praveen Kumar.
The Indian pacer said he did not feel it was the first Test of his career as he snared three West Indies wickets in the ongoing match in Kingston, Jamaica.
Praveen's 3 for 38 was instrumental in India bowling out the hosts for 173 in their first innings.
- Mishra fined for dissent towards umpire
However, it wasn't all perfect for the pacer, as the umpire barred him from bowling after he treaded on the good length area of the pitch in his follow-through.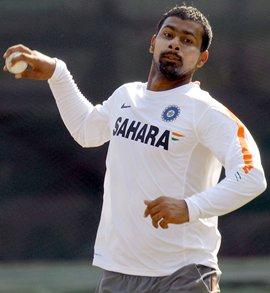 Umpire Daryl Harper stopped Praveen after he had sent down his 18th over.
"It's the very first time. It has never ever happened to me. Nobody has ever spoken to me [in a match]. In a way it's good that I found this out in my very first Test. I can now work on it," Praveen said at the end of the second day's play, which saw India lead by 164 runs, after scoring 91 for three in their second innings.
It was strange that Praveen repeated the mistake despite being warned twice by the umpire.
"I was bowling well and focusing on the batsmen rather than at my follow through. I just didn't remember I had been warned twice!" he said.
The young medium-pacer from Uttar Pradesh said bowling in his first Test was an enjoyable experience.
"To tell the truth, I never felt as if I was playing my first Test. I was quite enjoying myself and the ball was swinging either way."
Praveen felt he was lucky that he could find his rhythm after only two overs.
"In this heat, it was important I found my rhythm early. Fortunately, I found my rhythm after only two overs."