Shivnarine Chanderpaul seemed to have saved his best for a special occasion as his match saving innings of 116 against India in the third Test turned out to be one of his better efforts taking into consideration the team's situation at that point of time.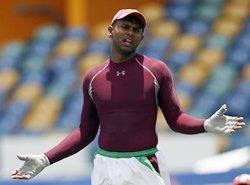 Chanderpaul walked into the middle in the third Test against India with scorecard reading 40 for three. He stayed steadfast at crease for over eight hours and was involved in two match-saving partnerships with debutant Kirk Edwards and tail-ender Fidel Edwards during his unbeaten 116-run knock. 
"I would say this was one my best because of the situation of the team when I went in to bat and the way the game was going," Chanderpaul was quoted as saying by a WICB release.
"To be batting on a fifth day pitch and the way the ball was bouncing and turning -- some would grip and bounce and you weren't always sure which way the ball would go. You had to be very patient and very watchful and careful.
"You couldn't play as freely as you would have liked to so I had to use all my skills and it took a lot of mental effort as well. Also, Dhoni blocked up all the areas where you had scoring opportunities and it was a lot of hard work. It was really tough out there," he added. 
The 36-year-old whose 343-ball 116 bagged him the Man-of-the-Match award and added more weight to his statistics, which now read 9,367 runs at an average of 49.04 per innings with 23 centuries and 55 half-centuries, heaped praise on debutant Kirk Edwards who also hit a crucial ton. 
"Oh man, he batted brilliantly! He took the challenge to Harbhajan and that helped us a lot. He was not afraid to take the attack to the bowlers. He was positive and had the right mindset. He was not afraid. He played it his way and did what he knows and what he does best," explained Chanderpaul.