Australia [ Images ] vice-captain Shane Watson [ Images ] has signed up with Sydney [ Images ] Sixers in the Twenty20 [ Images ] Big Bash League and will take part in the tournament during the gap between the home Test series against New Zealand [ Images ] and India.
While Watson has decided to sign up for the Sixers, Mitchell Johnson [ Images ], who is also loaded with international assignments, has chosen not to sign with any BBL team, while Test captain Michael Clarke [ Images ] is yet to take a decision.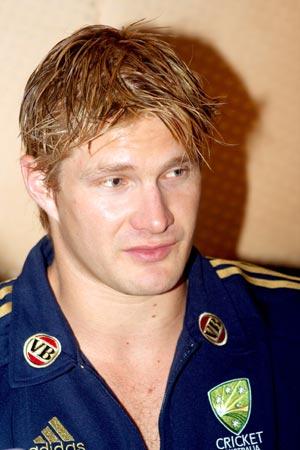 However, Sixers general manager, Stuart Clark, said he has signed Watson, knowing fully well that the issues of fitness or fatigue may limit the all-rounder's role in the inaugural edition to just one match or so.
But Clark claimed that he wanted to create a long-term relationship with the cricketer.
"We expect him to be fully fit and ready to play when the competition comes around, but at the same time we want Shane to have a long-term relationship with the Sixers," Clark told ESPNcricinfo.
"As someone who has played international cricket I know how demanding it can be, so we'll take it on a case by case basis and work out what is best with Shane," he added.
Having signed up with the Sixers, Watson will stay close to the SCG, but would certainly have to manage his heavy workload amid huge international commitments from August and February.
"When Stuart rang me about joining the Sixers I was excited about the type of team that he was building and the quality group of players that he was putting together," Watson said.
"It's great to be based at my favourite place in the world to play cricket, the SCG, and I hope that I can add something to the squad and be part of a winning culture," he added.
Clark said he was also excited at the fact that Watson might have to choose between the Sixers and the Rajasthan Royals [ Images ] of the Indian Premier League [ Images ] if both qualify for next year's Twenty20 Champions League [ Images ].
"Shane is a quality cricketer and we are delighted that he has chosen to join the Sixers. He brings a combination of experience and class, and will help provide the leadership that will teach our younger players what it takes to win. He is a match-winner with both bat and ball, and a quality human being," Clark said.