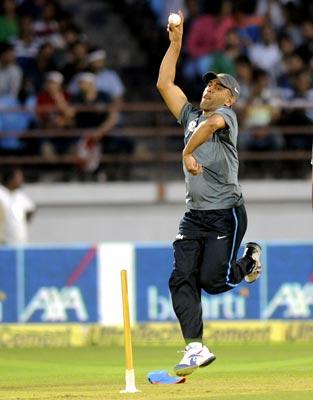 Just a day after being left soggy by incessant showers, the ACA-VDCA stadium is now completely dry and ready for the second One-Day International between India and the West Indies to be held in Visakhapatnam, on Saturday.

The Andhra Cricket Association has more than doubled the strength of their groundsmen to get the venue ready in time. Such is their preparation that ACA curator K Naga Mallaiah is 100 per cent confident of a match taking place even if it rains the whole night.

Citing the example of the India 'A' series played at the Andhra Cricket Association-Vishakapatnam District Cricket Association earlier this year, he said: "That time, it rained the whole night but such was our sewage system that we did not have a single washout. The ground was ready by morning."

"The match is on 100 per cent, even if it rains tonight. All we need is a few hours before the match to get the stadium ready," he said.

The good news for the cricket fans is that the deep cloud formation because of the 'Cyclone Helen' has dispersed leading to occasional sunshine on the eve of the match and there is no rain forecast for Sunday as well.

"We knew that there would be a cyclonic formation towards mid November. Accordingly, we prepared the outfield with more sands and organic manure to keep the grass alive even as the cover is on for days," the curator added.

The ground was 90 per cent covered with the rain, there was no seepage, he said adding they have brought two more super soppers to make the ground ready.

Deprived of an International match for two years, the city is also looking forward to the second ODI. The tickets for the 27,000 capacity stadium were sold out on the first day itself.
Image: Mahendra Singh Dhoni
Photograph: BCCI