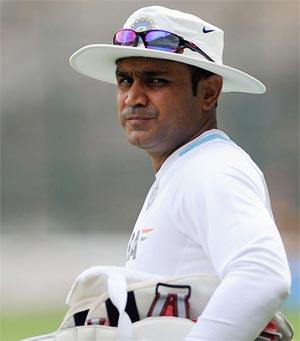 Virender Sehwag's ploy to bat in the middle order played a big part in his dismal run for Delhi in the Ranji Trophy season, according to District Cricket Association's chairman of selectors Chetan Chauhan. He suggested that the dashing right-hander should return to the opening position.
- Is there a way back for Virender Sehwag?

"I would always like Viru [Sehwag] to open the batting. He has scored all his runs opening the batting for India and I believe that he should continue batting at the top of the order," he said, in New Delhi, on Thursday, after Delhi were beaten by Karnataka by eight wickets.

"Make no mistake, Virender Sehwag is a great cricketer. I believe the problem was his confusion with the batting order. He was in a dilemma as to whether to bat at the top or bat in the middle-order, and that has affected his game," Chauhan, a former Indian opener who played 40 Tests, said.

Sehwag aggregated 234 runs in 13 innings, at an average of 19.50, in Delhi's disastrous Ranji Trophy campaign, having batted from 1 to 6 positions. However, Chauhan is confident that with a bit of hard work, he can regain his best form.

"I believe Sehwag couldn't perform as per expectations this season. There were a lot of matches in the year 2013 and the year exactly didn't go as he would have liked it to be. I don't think I need to advise him on the technical aspect, as he has played 100 Test matches. Anyone who has played those many matches knows what they need to do. But, yes, I would definitely tell him to work even harder as there is no substitute to hard work," he added.

Although Gautam Gambhir had a good season for Delhi with the bat, hitting 578 runs, Chauhan said his performance as captain will be reviewed.

"I can't say what will be done, but Gautam Gambhir's captaincy will certainly be discussed when the selection committee meets next to pick the squad for the Vijay Hazare Trophy (North Zone one-dayers)," Chauhan concluded.