'Cricketers play together a lot these days, both with and against each other, so you've got to be very careful about holding grudges and making stances like that.'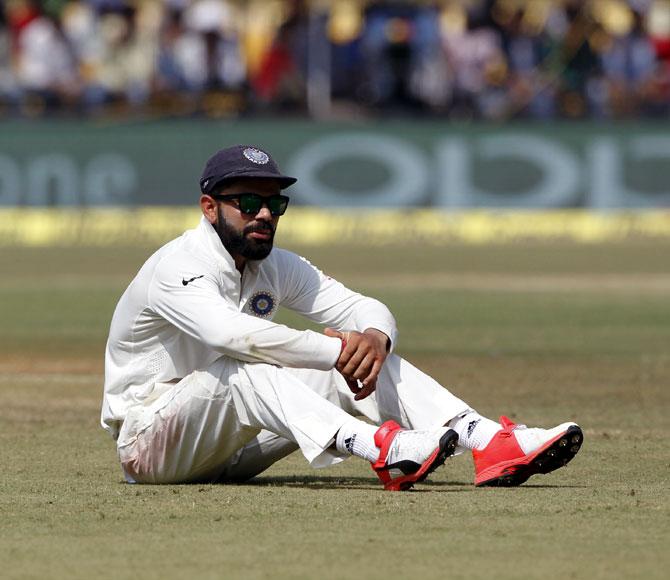 IMAGE: India captain Virat Kohli. Photograph: BCCI
Denouncing Virat Kohli's comments that the spiteful Test series has ended his friendship with the Australian cricketers, legendary batsman Mark Taylor says the India captain should not hold any grudges since it's just a game in the end.

Soon after claiming the Border-Gavaskar Trophy following their victory in the fourth and final Test in Dharamsala on Tuesday, Kohli declared that he no longer enjoys friendship with the Australian cricketers.

"No, it has changed for sure. I thought that was the case but it has changed for sure. As I said in the heat of the battle, you want to be competitive but yeah I have been proven wrong.

"The thing I said before the first Test, I have certainly been proven wrong and you won't hear me say that ever again," Kohli said.

The comments, however, did not go down well with Taylor, who feels Kohli should grow 'bigger'.

"Cricketers play together a lot these days, both with and against each other, so you've got to be very careful about holding grudges and making stances like that," Taylor wrote in his blog for Wide World of Sports.

"I always tried to catch up with the opposition after a match. There are series where you're disappointed because things didn't go your way, or you're delighted because things did go your way, but you have to be bigger than that.

"You have to say, 'Well, irrespective of my own performance and that of my team I've got to go and put my face in there and say thanks for the contest.'

"At the end of the day it's become a fully professional game with quite a bit at stake, but it's still just a game and I think that's what people have got to remember," he added.
Australia coach Darren Lehmann also said he is disappointed with Kohli for declaring that he is no longer friends with Australian players.

Asked about Kohli's comment in a pre-departure media interaction, Lehmann said, "Disappointing but that's his opinion isn't it?"

On whether he thought that the rest of the Indian team had sentiments similar to Kohli, Lehmann replied in the negative.

"No, I don't think the Indian team (feels that), I too was very impressed with (Ajinkya) Rahane's captaincy. I thought he was brilliant," Lehmann said, trying to side-step the query by referring to Rahane's stand-in captaincy during the fourth and final Test in Dharamsala.

Kohli had missed the series-decider owing to a shoulder injury and even that had been mocked by the Australian players.

Former Australia batsman Dean Jones and ex-England player David Lloyd also questioned the wisdom of Kohli's comments.

"Virat will learn that this great game is not just about winning and losing. It's also about the friends you make while playing the game," Jones wrote on his twitter handle.

Lloyd asked Kohli to take some lessons from Sachin Tendulkar on how to conduct himself on and off the field.

"This lad certainly has a lot to say ...maybe (he) should sit and LISTEN to S Tendulkar," Lloyd tweeted.