Impressed with his consistent performance and attitude, former Pakistan captain Wasim Akram [ Images ] feels Virat Kohli [ Images ] can become the future captain of India [ Images ] if he continues to work hard.
"Virat's performances in One-Day Internationals have been really good, but now the time has come for graduation. To be a Sachin Tendulkar [ Images ], a Rahul Dravid [ Images ], a VVS Laxman [ Images ] is what counts and Virat must have that in his mind all the time.
"If he works hard on all aspects of his game, he can be a future captain for India, I have no doubt about that. He seems to have all the makings of a leader," Akram wrote in his column.
Akram, however, added that Kohli needed to prove himself in Test cricket also.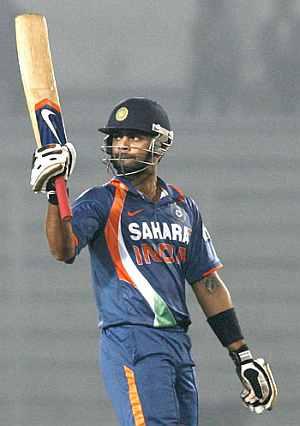 "Virat is really talented. He now looks a supremely confident player. But there is more needed from him. I have long been saying that a batsman is complete only when he proves himself in Test cricket," wrote the former skipper in espnstar.com.
Besides Kohli, Akram also praised young off-spinner Ravichandran Ashwin.
"Ashwin is pretty new to international cricket but he has made his mark in such a short time. What I like about like about him is his cool approach in tense situations. As a bowler he has a lot of variety. I see him doing well in the time to come," he said.