India wicketkeeper Mahendra Singh Dhoni has admitted that he has found the wobbly Duke ball tough to negotiate in English conditions, where it swings more than normal.
The 26-year-old had a tough time behind the wickets in the second Test at Trent Bridge as he failed to collect deliveries cleanly, specially against Zaheer Khan and S Sreesanth, who have swung the ball a great ball.
It was therefore no surprise to see Dhoni having a long practice session in Leicester in between the three-day tour match against Sri Lanka A with fielding coach Robin Singh. He had a session of around an hour where he kept wickets against both pacers and spinners as Singh oversaw the proceedings.
Leicestershire captain and wicketkeeper Paul Nixon believes that with the Indian left-arm pace bowlers getting so much movement it is making life difficult for Dhoni.
"Quite often in England with the swinging ball and a slightly bouncier pitch as compared to India the ball can wobble around for a little bit longer," Nixon told rediff.com.
"Breezy conditions and sunshine can make it very conducive for swing bowling.
"I felt for Dhoni the other day [in the second Test] because the ball swung a lot after it passed the bat, specially the left-arm overs. The left-arm bowler bowls normally over the wicket, but he puts a bit of pressure on the keeper when he goes round the wicket."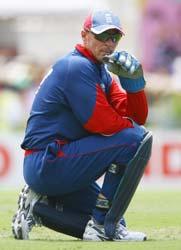 Nixon has played 19 ODI's for England and was a part of the 2007 World Cup team.
"With the angle in, if the ball does swing a lot it can go down the leg side a lot after it passes the bat so it is tough. The big thing is getting your bear-sit [keeping position], making sure your chin and knees can be quite close together and your hands are out in front of you so your hands can give nice and early.
But the key is you stay down with bent knees as long as you can and be aggressive in the catch. It is important to have an aggressive mindset but have relaxed hands," added the 36-year-old.
Former West Indies captain and wicketkeeper Jimmy Adams said the key for a wicketkeeper in moving conditions is to move late.
"It is difficult because the ball does a little bit after it passes the wickets. In India, Pakistan and the Caribbean it is pretty much a straight path but in England it is not a straight path," Adams said. "The wicketkeepers must try and move as late as possible in England where the ball moves so much,"
Nixon, who is in Leiecestershire training with the county team, said he would have a chat with Dhoni and help with a few tips on keeping in England.
"Obviously we all want to try and lift our game everyday and every game we play. I am going to have a chat with him on Sunday. I think it is important all the batsmen, bowlers and wicketkeepers talk individually to each other about the game and you can always learn something. I am sure he has got something to pass to me and I have something to pass to him," he said.
Nixon said it is unfair to criticize Dhoni since this is his first experience of English conditions and the fact that he has held all his catches.
"I think the criticisms have been quite harsh. There is a very fine margin between a very good day and an ordinary day, can be two or three takes out of three or four hundred that come your way, especially on a long day of Test cricket. One-day cricket for instance is all fast and furious and it is important you stay in the catch and stay on your game and mentally want the ball to come to your every ball. Every ball the batsman plays, you want him to edge it you that's how you must have your game plan when you keep wickets," he said.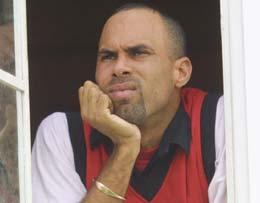 Adams believes that this tour would serve Dhoni as a good learning experience.
"So it can be a little bit more challenging than it would be in the conditions that people like Dhoni, Kamran Akmal or the young Denesh Ramdin form the West Indies would find.
"You usually find that they have one poor tour and when they come back four years later you can see that they have toured England already. So it does make you a better player and I am sure Dhoni and all the other young keepers who have toured England will attest to that fact," Adams said.
Adams, who played 54 Tests and 127 ODIs for West Indies, paid rich tributes to Adam Gilchrist.
He said the Australia can command his place in any side just on basis of his batting, but his wicketkeeping skill is also among the best.
"I think the term wicketkeeper batsman has been taken to a new level by Adam Gilchrist. He is somebody who can bat in the top four of any Test team including his own and is now a very good wicketkeeper. He might not have started as the best but very few wicketkeepers start out as the best, they develop into.
"He has certainly now has developed into the top two or three wicketkeepers in the world on the top of his abilities to bat in the top four of any Test team in the world. He has taken the position to a new level and it is good for the game," he said.