Tino Best took a career best 6-40 in an innings to set up a crushing 10-wicket victory for West Indies in the second Test against Bangladesh in Khulna on Sunday.
Best helped West Indies skittle Bangladesh for 287 runs in their second innings on the fifth day, setting up a target of 28 runs to win for the tourists, who won the first Test by 77 runs.
The West Indies reached 30-0 in just 4.4 over complete a 2-0 sweep in the series.
"It's a good feeling when you are winning, good to see when you plan, go out and execute, your teammates go out and perform consistently," said West Indies captain Darren Sammy.
"The slow steps that we have taken are bettering ourselves and moving us up in Test cricket."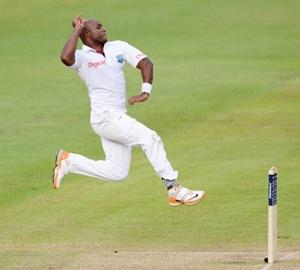 Kieran Powell smashed Naeem Islam for two successive fours to bring up the win while Chris Gayle was unbeaten on 20 at the other end.
Bangladesh resumed play at 226-6 and lost a wicket on the fourth ball of the morning when Mahmudullah was caught by Denesh Ramdin off Veerasammy Permaul for two.
Best added three wickets in the morning to his three overnight, giving him a five-wicket haul in successive Tests.
He struck with his first ball of the day, bowling Sohag Gazi for seven before the paceman uprooted the leg stump of Nasir Hossain with the batsman on 94.
Nasir, who began the day on 64, has now missed his maiden century in second successive Test after he was out for 96 in the first innings of first Test in Dhaka.
"In this Test, there were a couple of guys who put up their hand and did a good job," said Bangladesh captain Mushfiqur Rahim.
"Congratulations to Shakib for his 100th wicket and Nasir for his good form but we need to work harder to have more players performing like them.
"One of our challenges is to overcome our problems and bat much better."
Best removed the final wicket of Rubel Hossain for 14 a ball after the batsman was dropped by Fidel Edwards off Permaul.
Marlon Samuels was named man of the match for his 260 runs in the first innings. Shivnarine Chanderpaul, who scored a double century and a century in two Tests, was named man of the series.
The five-match ODI series between the teams begins on November 30.
Scorecard
Australia (1st innings): 550
South Africa (1st innings): 388
Australia (2nd innings): (overnight 111-5)
D. Warner c du Plessis b Kleinveldt 41
E. Cowan b Kleinveldt 29
R. Quiney c de Villiers b Kleinveldt 0
R. Ponting b Steyn 16
M. Clarke lbw Steyn 38
P. Siddle c de Villiers b Morkel 1
M. Hussey c Steyn b Morkel 54
M. Wade c De Villiers b Morkel 18
J. Pattinson not out 29
B. Hilfenhaus not out 18
Extras: (b-4 lb-10, nb-9) 23
Total: (for 8 wickets decl, 70 overs) 267
Fall of wickets: 1-77, 2-77, 3-91, 4-98, 5-103, 6-173, 7-206, 8-220.
Did not bat: N. Lyon
Bowling: Steyn 17-5-50-2 (nb-1), Morkel 19-4-50-3 (nb-1), Kleinveldt 19-2-65-3 (nb-5), Tahir 14-1-80-0 (nb-2), F. Du Plessis 1-0-8-0.
South Africa (2nd innings):
G. Smith c Ponting b Hilfenhaus 0
A. Petersen b Siddle 24
H. Amla c Clarke b Lyon 17
J. Rudolph c Cowan b Lyon 3
AB De Villiers not out 11
F. Du Plessis not out 18
Extras: (1-b, 1-nb) 2
Total: (for four wickets, 50 overs) 77
Fall of wickets: 1-3, 2-36, 3-45, 4-45.
Still to bat: Kallis, Morkel, Steyn, Tahir, Kleinveldt
Bowling: B. Hilfenhaus 12-6-23-1, P. Siddle 11-5-23-1 (1-nb), M. Clarke 5-2-4-0, N. Lyon 15-7-15-2, D. Warner 3-0-10-0, R. Quiney 3-2-1-1, R. Ponting 1-1-0-0.
Photograph: Gareth Copley/Getty Images