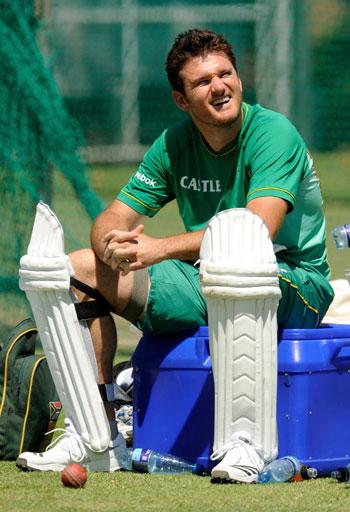 They came, they saw but they just failed to conquer. South Africa last trip to India (2008) reached a peak -- with a resounding win in the second Test at Ahmedabad -- and hit a trough in the next Test at Kanpur.
And as they get themselves ready for another assault on Indian soil -- beginning with the opening Test at Nagpur on Saturday -- the Proteas are clear about what they want from this trip.
"We have, in recent years, won Test series in Australia and England and we want to win here," said their captain Graeme Smith.
"Not many teams have done so over the years and it remains one of our goals. In 2008 we played well and came close and this time we want to go a step further," he added.
The days leading to the commencement of this tour have been chaotic for South African cricket with coach Mickey Arthur tendering his resignation just days before the team could embark on its journey. And Smith minces no words when he dissects the issue.
"It has been a rushed build up," he admits.
"The last week or so was tough for all the guys. The negative media reports (on Arthur's resignation as coach) played on the minds of all the players," he explained.
"We have tried to cover up our bases as much as we can and our preparations have gone well," he assured.
And the captain is very much aware of the rigours of the subcontinent. "Every time we come to India we expect a certain kind of wicket and we are prepared for that," explained Smith.
"We do need to adapt to the conditions here but at the same time it is important that we play our style of cricket.
"And it is the fast bowlers, not spinners, who have taken wickets for us everywhere and here it has been no different," he added.
The fact that it is only a two Test series rankles Smith though.
"When it is a two-Test series, it puts a lot of pressure on the opening Test. And we haven't started well in a series of late," said the South African captain, adding, "I do feel we are ready for this series. However, implementations of ideas will be the key."
Smith also believes the fact that India will be missing some of their key players gives his side an early advantage.
"You lose a lot of experience when a player like say Laxman doesn't play," he says, before explaining, "It is an opportunity for us because it puts more pressure on a Sehwag or a Gambhir to perform their role in a more responsible manner."
And it is this opportunity that the South Africa captain hopes to capitalize on. For the prize is wresting back the top spot from the hosts.  
"Ranking is a common question in the cricket world today. In the last two years we have played Australia, England and India and I think we are pretty much battle-hardened," he said.
"And if we manage to beat India in this series, that result will take care of our ranking. However, ultimately this tour will be judged on the results and it is the player's responsibility to ensure that," Smith added.