India 'A' batsmen dominated the opening day of the warm up game against Australia but Rohit Sharma said the visitors actually have a decent attack and they leaked runs because they were aggressive and experimented a bit with their bowling variations.
Sharma cracked a useful 77 and shared a 128-run stand for the second wicket with centurion Gautam Gambhir (112) as India 'A' piled up 338 for four.
"They have a decent attack. They were trying to attack too much with fielders all closing in and so we could take those chances and score runs quickly. Again it is a different ball game when it comes to Test match. They will be bowling more tightly. May be they were trying few things today. We took real advantage of that," Sharma said after day's play.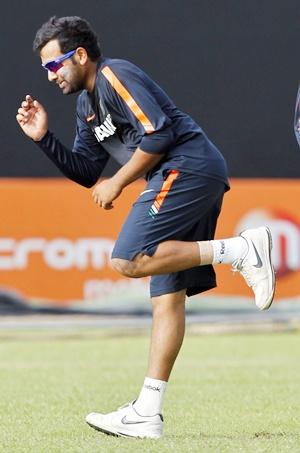 The 25-year-old batsman was pleased with his batting.
"Of course I am happy. I think whatever I got I am happy but I know that even if you get hundred, you will probably feel I should go for 150. That is not the case here. I am happy with whatever I am getting. I am looking forward to whatever opportunities I get," he said.
Talking about his partnership with Gambhir, he said, they decided to plan was to prolong the stay at the wicket.
"We had a small conversation saying that we need to spend some time not losing wickets. That was the plan and it really worked. When we went in after lunch we ran between the wickets very well. After lunch, runs started to come by very easily because those guys were trying few new things and both of us took advantage of it," he said.
Sharma also said it was a challenge to survive and score against Peter Siddle and Mitchell Starc.
"They were bowling really well on tight lines. It is not easy to score here because the outfield and the wicket is not so fast. In the middle we saw them bowling reverse swing as well. Starc and Siddle bowled four overs in the middle and it was doing a lot. That period was very crucial and we played very well and did not give wickets," he said.
Asked how the team would approach the second day, Sharma said it would depend on how things fold for the side.
"I think Manoj is also close to hundred. We will see how it goes in the morning in the first five-six overs and then decide from there on," he said.
Asked if the Australian spinners pose some threat to Indian batsmen in the Test series, Sharma it would be foolish to underestimate opponents but the hosts were good enough to handle the visiting spinners.
"I am not saying that they are not good bowlers. You cannot under-estimate anybody. I am sure that same goes to the Indian team also. I am sure they will be chalking out whatever plans that they have got to tackle the spinners. I am sure Duncan Fletcher is experienced to do that.
"Whatever records we have against spinners we have done really well. The last series did not go so well for us. It does not matter as over the years we have doing so well against spinners. This time around also I am expecting the same," he said.
Sharma did not say much when asked about Gambhir's frame of mind coming into this game since the left-hander was axed from the Test side.
"I was completely focused on what I need to do rather than looking at others. Seriously, I do not know. I must complement the way Gambhir had batted and getting a hundred is not easy. I really congratulate him. Hope to see him in the India colours very soon," he said.
Photograph: Andrew Caballero-Reynolds/Reuters