India's Sachin Tendulkar and South Africa's Jacques Kallis now jointly hold the top position in the list of Test batsmen after their superb show in the recently concluded Test series, according to a media release issued by ICC.
Tendulkar, who scored 146 and 14 not out in the Cape Town Test has gained one place while Kallis has been rewarded with a jump of four places for his brilliant efforts of 161 and 109 not out. Sri Lanka captain Kumar Sangakkara has dropped two places to be third in the rankings.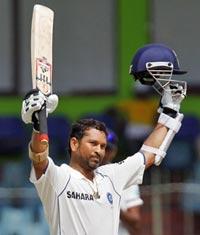 Tendulkar and Kallis now sit on 883 ratings points, just one ahead of Sangakkara.
It is the 10th time that Tendulkar has claimed the No 1 ranking which he first achieved in his 33rd Test in November 1994 against the West Indies in Mumbai.
While Virender Sehwag dropped two places to be at sixth, VVS Laxman stayed put at ninth position. Gautam Gambhir broke into the top-20 after his gritty show in the Test series and is now placed at 15th slot.
The only Indian among the top-10 bowlers is Harbhajan Singh who is eighth in the list led by Dale Steyn.