Martin Guptill continued his rich vein of form against Zimbabwe as he scored 91 not out to help New Zealand beat the visitors by seven wickets at Eden Park in Auckland on Saturday in the first of their two Twenty20 internationals.
Guptill, who scored 232 runs in the three one-day internationals at an average of 77, blasted five boundaries and six sixes as New Zealand made 160 for three off 16.5 overs after Zimbabwe had scored a credible 159 for eight from 20 overs.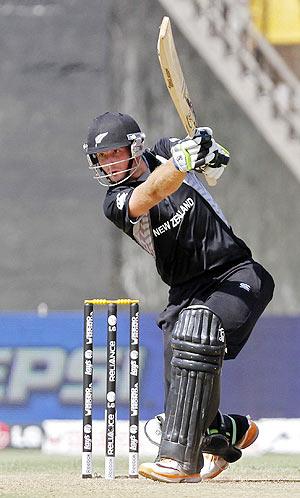 Kane Williamson (48) combined with Guptill in a 137-run partnership after Kyle Jarvis had taken two wickets in the second over to put New Zealand under some pressure for the first time on their tour.
Jarvis had been belted for two boundaries off his first two balls but then bounced back to bowl Rob Nicol with his third delivery of the over.
Jarvis then bowled a wide before having Brendon McCullum caught off the fourth legitimate delivery for a duck. He finished the eventful over by bowling another wide, conceding a single and then a dot ball.
Guptill, who was dropped on the boundary on 20, and Williamson, however, set about ticking off the runs with Guptill the aggressor while Williamson kept rotating the strike and ensured New Zealand achieved the total with 19 balls to spare.
The visitors had finally displayed some of the batting talent that has been hinted at with Hamilton Masakadza blasting three boundaries and three sixes to top score with 53 off 36 balls.
Elton Chigumbura also cleared the fence four times and hit three boundaries as he scored 48 from 24 deliveries at the end of the Zimbabwe innings.
Left-arm seamer Michael Bates, who bowled Zimbabwe captain Brendan Taylor in his first over, grabbed two wickets in the 20th over to finish with innings best figures of three for 31.
Zimbabwe's tour concludes after the second Twenty20 international at Seddon Park in Hamilton on February 14.
Scorecard:
Zimbabwe
B Taylor b Bates 3
H Masakadza c Franklin b Williamson 53
F Mutizwa c Guptill b Mills 0
T Taibu c Bracewell b N. McCullum 27
M Waller c Guptill b Mills 11
E Chigumbura c Guptill b Bates 48
S Masakadza b Hira 8
K Meth not out 6
P Utseya c Franklin b Bates 0
R Price not out 0
Extras: 3 (lb 1, w 1, nb 1)
Total: 159 for 8 (20 overs)
Fall of wickets: 1-5, 2-16, 3-78, 4-88, 5-106, 6-135, 7-156, 8-157.
Bowing: Mills 4-0-32-2, Bates 4-0-31-3, Bracewell 4-0-47-0, N. McCullum 2-0-11-1, Hira 4-0-22-1, Nicol 1-0-9-0, Williamson 1-0-6-1.
New Zealand:
R Nicol b Jarvis 12
M Guptill not out 91
B McCullum c Chigumbura b Jarvis 0
K Williamson run out (S.Mazakadza) 48
C de Grandhomme not out 0
Extras: 9 (b 0, lb 0, w 9, nb 0)
Total: 160 for 3 (16.5 overs)
Fall of wickets: 1-14, 2-15, 3-152.
Bowling: Meth 4-0-34-0, Jarvis 3-0-32-2, S Masakadza 2.5-0-26-0, Price 4-0-34-0, Utseya 2-0-18-0, Chigumbura 1-0-16-0.