In a setback to former Indian cricket team captain Sourav Ganguly, the Supreme court on Thursday quashed the land allotment to him by the West Bengal Government in 2000.
Quashing the allotment of 63.04 'katha' land in the posh Salt Lake city, a bench headed by Justice AK Ganguly directed the cricketer to surrender the land within two weeks.
The court passed the order on a petition filed by a West Bengal-based NGO, Humanity and others, challenging the Calcutta High Court's order which had upheld the state government's decision of allotting the land to Ganguly.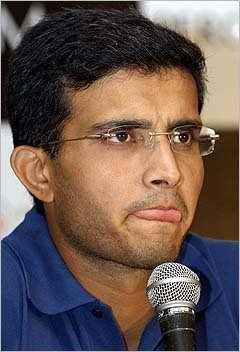 Allowing the appeal of NGO, the bench quashed the allotment and also directed the government to refund the money paid by Ganguly for the land.
The NGO had alleged that the land was illegally alloted to Ganguly as it was earmarked for a college.
The state government had accommodated Ganguly's request without amending the master plan, the NGO had alleged.
The NGO had submitted that the state government violated all norms and procedures while allotting the prime land to the former Indian cricket captain. The Calcutta High Court had in April last year upheld the land allotment observing in its order that there was no arbitrariness in the state government's action of allotting the land to Ganguly.
This order was challenged by the NGO following which the apex court had issued notice to the state government on September 16, last year.
The apex court also took an undertaking from the cricketer's counsel on the same day, that no construction activities will be done by him on the disputed land and status quo would be maintained till further order.