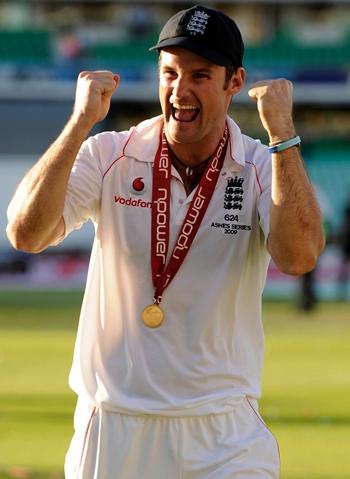 England captain Andrew Strauss has revealed how wearing a 'Help for Heroes' wristband throughout the Ashes series provided the inspiration to regain the urn.

England beat arch-rivals Australia 2-1 to win the Ashes, and raised £25,000 towards The Sun-backed Help for Heroes charity campaign in aid of wounded members of the British armed forces.

Every Australia wicket earned the Help for Heroes charity £200, a century £1,000, a run £6, and a winning bonus £4,000.

Strauss, who still wears the wristband, said the significance of the message helped him think positive when England were on the brink of defeat in the fourth Test at Headingley.

According to the The Sun, he explained: "On the Saturday, we were five wickets down in our second innings and still miles away from making Australia bat again.

"I was as low as I could be in my hotel room that night but then my wife Ruth, who had driven up, mentioned that some people had been blown up in Afghanistan. They were the ones who'd had a bad day.

"She was right. You can get caught up in the world of cricket and Ruth quickly provided some perspective.

"She brought things back to reality and made me realise what is important and what is not."

Since that moment, England's fortunes soared.

Although they lost the fourth Test by an innings and 80 runs, Stuart Broad and Graeme Swann scored thrilling half-centuries

to give their side renewed hope.

Then England dramatically won the fifth and deciding Test at the Brit Oval to repeat their 2005 success.

"The Help for Heroes campaign -- backed by The Sun -- is something I'm very happy to support.

"It has been a tough time over the last 12 months or so for anyone in the Armed Forces. Most items of news that come through make us more aware of what people are going through.

"There is no military history in my family that I know of.

"But prior to The Ashes we went to Flanders to look at the graves and trenches from World War One.

"That was a very moving trip. The number of people who died for their country out there was incredible and it is still going on today.

"So it has been at the forefront of our minds for the last six or seven months.

"It is easy to forget those guys are putting their lives on the line for us," Strauss added.

He explained that even when England lost the one-day series 6-1, he did not think about removing the band.

"We tried a lot of things to improve our fortunes but taking off the wristband was not one of them! I've still got it on."

England play four Tests, five one-day matches and two Twenty20 internationals on their tour of South Africa starting next month.