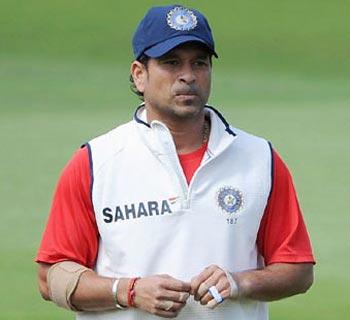 A few days back Sachin Tendulkar's retirement became the talk of the town when a daily newspaper reported that the selection committee chief, Sandeep Patil, had spoken with the veteran batsman about him calling it a day after the upcoming two-Test series against the West Indies.

Patil was quick to deny the report, saying he hasn't spoken with Tendulkar in the last ten months and the game's highest runs-scorer knows well when to hang his gloves.
- Tendulkar says he is no rush to retire from cricket
The Board of Control for Cricket too believes it is best left to the Mumbai batsman to decide on his future.

"The BCCI always maintained that Sachin himself is the best person to talk about his retirement, so I request everyone to stop talking about it. This has been going on since 2007, but I don't think we need to discuss it," said BCCI's Game Development Manager Ratnakar Shetty, in Mumbai on Monday, at the launch of Coca Cola's third under-16 inter-school cricket tournament.

"We should respect the decision of a great player like him. Till the time he can play cricket and serve the country let us all enjoy it and let us not discuss on when he will retire," he added.

Shetty also urged the media to refrain from speculating on Tendulkar's retirement, saying it should respect the legendary batsman.

"This is all presumption by you guys [media]. Any player who has served the country for so long, it is wrong to even talk about him. You need to respect such a big player and I don't think you need to discuss such things," he added.

He further pointed out that India's domestic cricket structure is one of the best in the world and continuously churns out talented players for the national team.

"The BCCI system is such that it automatically keeps producing cricketers and every year new players come through and they get a chance to perform."