Sri Lanka's scheduled tour of Zimbabwe has been thrown in doubt after the African nation sought to postpone the series starting in October without giving any specific details, Sri Lanka Cricket (SLC) said on Friday.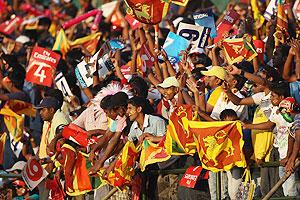 "We received an e-mail from the Zimbabwe Cricket Union (ZCU) seeking a postponement of the tour and the reason given was 'due to unavoidable circumstances'," SLC secretary Nishantha Ranatunga said.
"No further reasons were given by the Zimbabwe Cricket Union and we are awaiting further clarification on this matter."
Unconfirmed reports stated that the ZCU, which hosted India in July and are currently playing Pakistan at home, do not have the budget to host a third country in the space of four months.
Sri Lanka were due to tour Zimbabwe from October 6-November 4 to play two Tests, three one-day internationals and two Twenty20 matches.
Photograph: Michael Steele/Getty Images