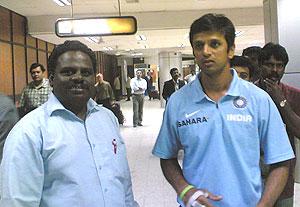 Reader C Joseph sent us this photograph.
'I met Rahul Dravid in Jan 2008 at the HAL Airport at Bangalore. I am proud of all players who represent the country,' writes Joseph.
Thank-you, Joseph, for sharing this picture!
If you encounter your favourite cricket/sports personalities, do send the photograph or video to sportsdesk@rediff.co.in We will feature the best images right here on Rediff Sports or Rediff Cricket.