The appeals of disgraced Pakistan cricketers Salman Butt and Mohammad Amir against the jail sentencing imposed on them in the spot-fixing saga were dismissed in a London court on Wednesday.
Both the cricketers, who appealed against their sentences and not their convictions, did not attend the hearing at the Court of Appeal in London.
Butt was sentenced to 30 months in jail, while Amir was detained for six months.
- Sentencing remarks of Justice Cooke
- Judge slaps fines too on convicted trio
The judge said that this was a notorious and essentially simple case and the Pakistan players were well rewarded for their part.
"The cricketers betrayed their team, their country, the sport that had given them their distinction and all the world followers of the game," the judge said.
"The reality is that all the enjoyment of watching cricket will be destroyed if this was allowed to continue. This is a notorious and essentially simple case. It was a betting scam and they were very well rewarded."
He also read out text messages sent to Amir by a separate match-fixer in Pakistan, which proved that the fixing plot was independent of Mazhar Majeed and that fixing happened before the Lord's Test.
He further added that Butt not batting out a fixed maiden over at the Oval was not an instance of him repenting for his crime, but it was because he could not do it against the new ball.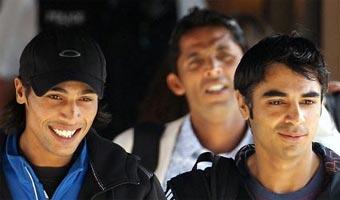 The judge also repeated Justice Cooke's suggestion at the spot-fixing trial earlier this month that Butt was the "orchestrator of the plot" and lured Amir into it.
Earlier in the day, Butt's lawyers, for the first time, admitted that he was involved in spot-fixing in the Lord's Test and that he was party to all the three no-balls in that match. However, they argued that the "sentence [was] out of proportion" since three no balls were unlikely to influence outcome of a match.
But the judge refused to cave in, saying that the former Pakistan skipper didn't repent or stop fixing and was only stopped by a newspaper sting.
Ali Bajwa, representing Butt, argued that his client's sentence was "manifestly excessive" and "out of proportion to the seriousness of the offence that was committed".
He said although serious, it was at the "lower end of the scale" of such offences.
Bajwa described Butt as a broken man in a state of "ruin and disgrace".
"The very fact of conviction and imprisonment amounted to exceptional punishment for Mr Butt," he said.
Amir's defence team, headed by Henry Blaxland, urged the court that his six-month sentence should be downgraded to a suspended term of a length that would enable him to walk free immediately.
Former captain Butt, pacer Amir along with Mohammad  Asif were found guilty of taking bribes to fix part of a Test match against England in a case that prosecutors said revealed rampant corruption at the heart of international cricket. The trio bowled deliberate no-balls at pre-arranged times during the Lord's Test against England in August last year.
The third guilty player Mohammad Asif, 28, who was handed a one-year prison sentence, had also filed his appeal but his case is expected to be taken up later as he has changed his legal defence team after the Southwark Crown Court trial.
Butt was given a jail term of two-and-a-half years, while his team-mate Asif got a year in jail. Amir, who had pleaded guilty, was sentenced to six months in prison.
Mazhar Majeed, the man at the centre of the spot-fixing controversy, was given two years and eight months in jail.
Butt, Asif and Majeed were sent to Wandsworth prison, while youngster Asif  was asked to serve his term at the Feltham Young Offenders Institution.
The three cricketers and Majeed were caught after a sting operation by the now-defunct UK tabloid News of the World.
Justice Jeremy Cooke also asked the cricketers to pay up the prosecution cost of the case. While Butt was asked to fork out 30,937 pounds, Asif and Amir were told to pay 8,120 and 9,389 pounds respectively.