Cricket SA (CSA) has praised the Proteas' squad for back-to back Test series victories in England to become the No 1 ranked Test side and retain the Basil d'Oliveira Trophy.
South Africa replaced England as the top team in the ICC Test Championship table following its 2-0 victory over Andrew Strauss's team in the three-match series, which ended at the Lord's Cricket Ground in London on Monday.
South Africa's series victory means that it is the clear leader at the top of the table and England is now second, pushing Australia to third place.
They now have 120 ranking points compared to England's 117. They will have to defend their ICC ranking status when they travel to third-placed Australia for a three-match series in November and December.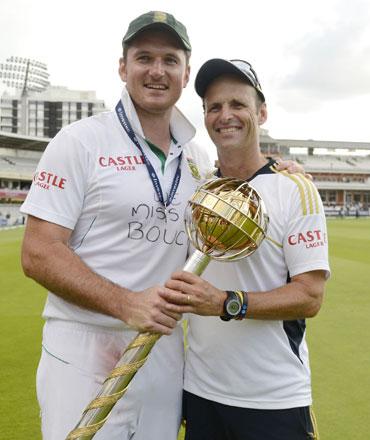 This will be followed by two home Test series against New Zealand and Pakistan.
Monday's match was a personal triumph for virtually every member of the Proteas' starting XI, but Hashim Amla stood out for his century, which set up the defendable target of 346, Sport24 reports.
"The entire squad, including all the players and team management, deserve every accolade they will undoubtedly receive," said CSA acting CEO Jacques Faul.
"They have made the entire country extremely proud and it has been a wonderful period for South African sport, coming after the impressive performance of Team SA at the Olympic Games and Ernie Els's victory at the British Open Golf Championship.
"What has been particularly impressive has been the way they have performed when the pressure has been at its most extreme and this is a tribute to head coach Gary Kirsten and his assistants for the coolness under pressure they have brought to the squad."
South Africa dedicates series win over England to Boucher
Meanwhile South Africa has dedicated their series win over England to former wicketkeeper Mark Boucher, whose career was cut short on the tour due to a freak eye injury.
Skipper Graeme Smith dedicated the win to Boucher at the post-match presentation. He also wrote "We miss you Bouch" on his shirt.
"It was a tribute from the team. It was meant to be his 150th Test. He's been an integral part of the Proteas family for so long and it was something as a team we felt we wanted to do," Smith said.
Boucher's international career was cut short when he was struck in the eye by a bail which ricocheted off the stumps in the Proteas' first match on tour. He subsequently announced his retirement from international cricket, Sport24 reports.
Boucher was quick to respond to the kind gestures from his former teammates via his Twitter account.
"Thnx @GraemeSmith49, the Proteas squad and 2 all the messages from everyone!That was a special touch! Proud to have been apart of that squad," he posted.
Photo: South Africa's captain Graeme Smith and coach Gary Kirsten hold the ICC mace on a lap of honour after South Africa defeated England in the third cricket test match at Lord's in London (REUTERS/Philip Brown)