Russell Domingo will take over as coach of South Africa's cricket team from Gary Kirsten, Cricket South Africa announced on Saturday.
-South Africa coach Kirsten to quit after Champions Trophy
Domingo had served as Kirsten's assistant for the last two years and been in charge of the country's Twenty20 team since December.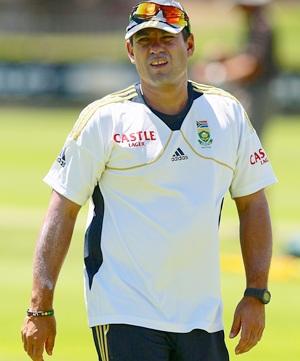 Kirsten announced on Friday he would not be taking up an offer to renew his contract when it ends in August, sending shockwaves through South African sport.
The most successful coach in Test and limited overs cricket in recent years, Kirsten said he spent 250 days away from home last year and needed to spend more time with his young family.
The Champions Trophy in England and Wales will be the last tournament in charge of the side for the 45-year-old.
Kirsten led India to a World Cup win in 2011 and since taking over as South Africa coach later the same year has seen the country rise to the top of the test rankings.
Photograph: Richard Huggard/Gallo Images/Getty Images