South Africa cricket coach Gary Kirsten will not renew his contract after next month's Champions Trophy, citing family reasons in a surprise decision announced on Friday.
Kirsten won the World Cup with India two years ago and had been seen as the man to lead his native country in their bid for a first title in 2015.
He signed a two-year deal in August 2011 but has decided not to renew despite South Africa going to the top of the International Cricket Council (ICC) rankings of Test-playing nations after series wins over England, Australia, New Zealand and Pakistan in the last 12 months.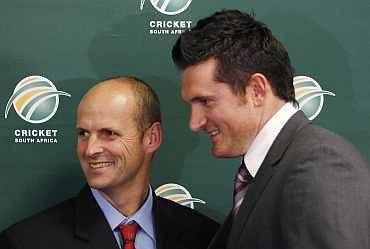 "Gary has a young family and it is understandable that he wishes to spend more time at home," said Cricket South Africa president Chris Nenzani in a statement.
- India players applaud outgoing coach Kirsten
The Champions Trophy in England and Wales next month will be the last tournament in charge of the side for the 45-year-old, who took charge of the team in 2011.
His initial contract was for two years with a further two-year option but he informed the CSA board at the end of last month that he would not be staying on.
Kirsten led India to World Cup glory in 2011 and later that year returned home to coach South Africa having been singled out as the man who could lead his native country to similar success in the 2015 event.
His tenure has been lauded as a great success as he helped South Africa to the top of the International Cricket Council Test rankings after series wins over England, Australia, New Zealand and Pakistan in the last 12 months.
"There have been many highlights over the past two years which have been well documented and I have every confidence that the Proteas will continue to go from strength to strength," Kirsten said in the same statement.
A successor is expected to be announced soon.
"With the Proteas due to tour Sri Lanka in July and August and Pakistan in November and important home series coming up against India and Australia next season it is important that we move quickly to identify his successor," Nenzani said, adding he hoped to keep Kirsten involved with cricket in the country.
"We will certainly endeavour to retain his services in some capacity as his experience as player, coach and mentor is not something we want to lose in its entirety."
"It is obvious to all of us, whether we have been close to the Proteas or simply fans watching from the stands, the standard of excellence that he has brought to our national team and it will be wonderful if he can complete his tenure by bringing home the ICC Champions Trophy next month."
The former opening batsman played international cricket for South Africa between 1993 and 2004, averaging over 40 in both Tests and one-day internationals.
After his retirement from the game he set up an academy in Cape Town and in late 2007 was named coach of India, commuting between his home and the sub-continent to guide the team.
Kirsten, who has two young sons and a daughter, has spoken often in interviews of the difficulty of juggling family life with the travel demands of international cricket.