Lendl Simmons struck his maiden One-day century as West Indies beat Bangladesh by 40 runs, on Thursday, to take 1-0 lead in their three-match series.
Simmons, playing in his 30th ODI, hit 122 as the tourists piled up a challenging 298 for four.
The target proved too much for Bangladesh, who were restricted to 258 for seven.
The 26-year-old Simmons received good support from Marlon Samuels, who scored 71, as the pair shared a 150-run stand.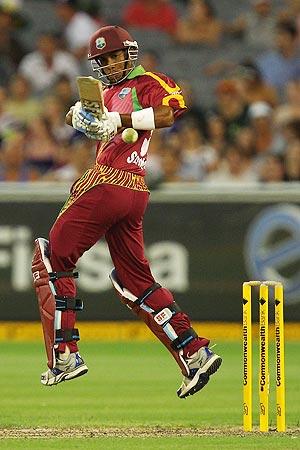 Simmons and opening partner Adrian Barath added 67 runs before a hamstring injury forced Barath to retire hurt for 21, making him the first victim of a new ICC rule, which bans a runner for an injured batsman.
Simmons and Samuels made Bangladesh wait until the 42nd over before they had their first breakthroughs when paceman Rubel Hossain dismissed both in the space of four balls.
Bangladesh never threatened to chase down their imposing target despite makeshift opener Naeem Islam scoring 52 and former skipper Shakib Al Hasan delivering some late blows to hit 67 not out.
Samuels capped a fine all-round performance with two wickets for West Indies, who were without regular captain Darren Sammy due to a stomach upset.
Sammy is expected to return to the side on Saturday for the second ODI at the same venue.
Scorecard
West Indies:
L Simmons c Kapali b Rubel 122
A Barath retd hurt 21
M Samuels c Kapali b Rubel 71
D Bravo b Shafiul 20
K Pollard c sub b Rubel  41
D Hyatt not out 6
A Russell not out 7
Extras: (lb-2, w-8) 10
Total: (4 wkts in 50 overs) 298
Fall of wickets: 1-217, 2-224, 3-283, 4-289.
Bowling: Shafiul 10-0-67-1, Rubel 9-1-54-3, Razzak 9-0-64-0, Shakib 10-0-50-0, Naeem 4-0-27-0, Nasir 2-0-10-0, Kapali 6-0-24-0.
Bangladesh:
Tamim Iqbal c Ramdin b Bishoo 21
Naeem Islam c Hyatt b Russell 52
Imrul Kayes c Ramdin b Samuels 42
Mohammad Ashraful c Ramdin b Rampaul 2
Shakib Al Hasan not out 67
Mushfiqur Rahim c Bravo b Samuels 21
Alok Kapali c Simmons b Rampaul 20
Nasir Hossain b Russell 9
Abdur Razzak not out 8
Extras: (lb7, w9) 16
Total: (seven wickets; 50 overs) 258
Fall of wickets: 1-44, 2-122, 3-126, 4-130, 5-164, 6-219, 7-237.
Bowling: Rampaul 10-0-35-2 (w2), Roach 8-0-48-0 (w2), Russell 9-0-44-2 (w2), Bishoo 8-0-45-1 (w1), Samuels 10-0-42-2 (w1), Pollard 5-0-37-0 (w1).
Result: West Indies win by 40 runs