What were YOU doing when Kapil Dev lifted the Prudential Cup in 1983? Tell us right here!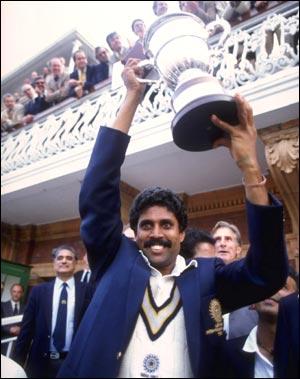 Everyone remembers THAT World Cup! The magical moment when India's cricketing heroes became legends as they trounced the mighty West Indians in the 1983 World Cup finals.

Sure MS Dhoni won the Cup for us yet again but the first time will always be special won't it?

So where were you on June 25, 1983? What were you doing? Were you glued to the TV set
like the rest of the country? Were you at work listening to the radio or had you bunked? Or were you too young to know what was happening and yet couldn't help but be enthused by the infectious energy?
Tell us all about it! Share with us where you were that day, what you were doing and just how you celebrated India's greatest sporting victory in 1983?
Post your messages on Rediff ZaraBol! Sign in and tell us! We're dying to hear!