Legendary Australian spinner Shane Warne says the cricket world has lost a 'true character and champion' in his mentor Terry Jenner.
Jenner, 66, who suffered a massive heart attack in April, passed away on Wednesday in Adelaide.
"Cricket has lost a true character and champion -- the world is a lesser place without Terrence James Jenner! Mate I will miss you so much," Warne was quoted as saying in the Australian.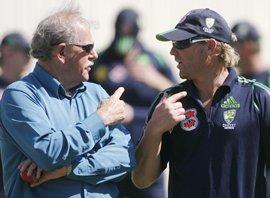 Warne, who recently played his last professional match in the Indian Premier League, recalled his last conversation with Jenner.
"When I spoke to TJ on the phone a few weeks ago – we said goodbye to each other -- it was a very difficult thing to do and chat as it was so unlike all our others -- this was it for the last time after 20-odd years. We both didn't say too much as we both didn't need to -- we just knew," he said.
"I did thank him though for everything he had done for me and tried to express how much his patience, advice, love and above all his friendship has meant to me and my family."
Warne also recalled his first meeting with Jenner as a 'spiky blond haired 20-year-old … who thought he knew a bit about leg spin'.
"I think we met at exactly the right time in each other's lives. Maybe all the stars and moons were aligned, because we clicked instantly," Warne said.
Warne said Jenner was the one who motivated him to take his cricket seriously and lose weight.
'You're fat, drink way too much beer and smoke like a chimney and have never had to sacrifice anything,' Jenner apparently told Warne at the start of his career.
"Wherever I was around the world we would call and chat -- we would plan to bring down the opposition batsmen, laugh and I would hang up feeling good," Warne wrote.
"His knowledge of the game, not just spin bowling, was amazing -- he understood so much and was happy to share his knowledge to whoever wanted to listen, he always had the game of cricket at heart."