Pakistan's cricket coach has described former captain Shahid Afridi as "immature" and a bad influence on the dressing room.
In excerpts of tour reports, coach Waqar Younis said Afridi's attitude and unwillingness to resolve issues created an uncomfortable dressing-room environment that affected players and led to defeats in the ODI series against West Indies.
Afridi announced his retirement from international cricket after the Pakistan Cricket Board (PCB) removed him as captain for a one-day series against Ireland.
The PCB, who will hold disciplinary proceedings against Afridi, are unhappy about his comments concerning perceived interference in his role during the tour of West Indies, where a dispute with former Test captain Waqar came to a head.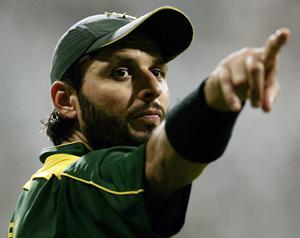 "As a (former) captain I feel he is still very immature, has poor discipline, lacks a game plan and is unwilling to listen to others' opinions or advice," Waqar said in his report.
"Besides myself, the rest of the coaching staff has worked very hard with him to improve his abilities as a long-term and successful captain but sometimes his volatile and immature nature have proved detrimental and led to unfortunate outcomes including game losses."
Waqar also said there were disagreements with Afridi in team meetings before the last couple of one-dayers in the West Indies, which Pakistan lost.
"During the 4th and 5th ODIs, he came into the team meetings meeting with a decisive mindset and was refusing to discuss playing XI options," Waqar said in the report.
"I .... tried to discuss different options for the team but he behaved very inappropriately and walked out of the meeting.
"I have to say, this is a very unprofessional attitude of a team's captain and does not help the team flourish."
Afridi has been told to appear before a three-member PCB disciplinary committee on Wednesday to respond to charges of violating several clauses of his contract in unilaterally announcing his retirement and making disparaging remarks about the board.
Team manager Intikhab Alam said in his report that Afridi lacked the temperament to listen to other points of view or to look for solutions for the betterment of the team.
"Unfortunately Waqar and Afridi do not get along well with each other," Intikhab said, adding that Waqar believed Afridi had also disclosed the content of team meetings to the media.