Pakistan's flamboyant former captain and Twenty20 [ Images ] hot property Shahid Afridi [ Images ] has shunned the dollars for national duty by opting out of the Bangladesh Premier League where he was the costliest player after fetching a price tag of USD 700,000 in the auction. 
"Unfortunately the dates of the league clash directly with the one-day and Twenty20 series against England [ Images ]. So, I have decided to skip the Bangladesh event as national duty is more important," Afridi said from Australia [ Images ] where he is appearing in the Big Bash Twenty20 tournament. 
The BPL is to be played from February 9 to 28 and the limited overs series against England also begins from February 11 in the UAE.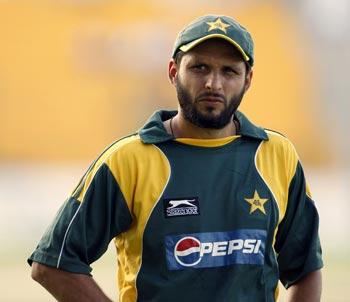 Afridi, who has quit Test cricket, said he was eager to play against England and do well. 
"I am looking forward to that series so obviously it was not a difficult choice at all. I am available to play in foreign leagues only when not required on national duty," he said. 
Earlier, the all-rounder also expressed his unavailability for the opening stages of South Africa's [ Images ] domestic Twenty20 competition. 
Among other Pakistani players, Saeed Ajmal [ Images ] (USD 100,000), Rana Naved (USD 100,000) and Imran Nazir [ Images ] (USD 85,000) were bought by Dhaka Gladiators -- the team that bid for Afridi. 
Number of Pakistani players were brought by the six franchises in the league including Shoaib Malik [ Images ], Saeed Ajmal  who fetched a price of USD 100,000.
The other Pakistani players brought by the franchises include Rana Naved (USD 100,000), Sohail Tanvir [ Images ] (USD 100,000), Kamran Akmal (USD 100,000), Abdul Razzaq [ Images ]  (USD 100,000), Imran Nazir (USD 85,000), Mohammad Sami [ Images ] (USD 70,000), Fawad Alam [ Images ] (USD 45,000), Qaiser Abbas (USD 25,000) and Faisal Iqbal [ Images ] (USD  5,000).