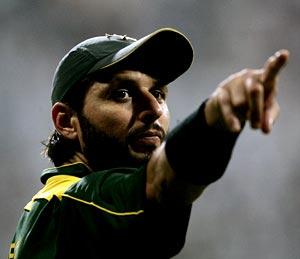 Pakistan captain Mohammad Yousuf is baffled by team mate Shahid Afridi's ball tampering act in the fifth and final One-Day International against Australia in Perth.
"I don't know why he did it but it brought a bad name to the country, the good thing is that at least he realised his mistake and admitted it. I hope he does not repeat it again."
"Pakistan cricket does not need such incidents," Yousuf said.
The skipper returned to Karachi on Wednesday after a humiliating Australian tour where they were whitewashed in both the one-day and Test series.
Afridi, who led Pakistan in the final one-dayer, was seen biting the ball and was later banned by the match referee for two Twenty20 matches on pleading guilty and apologising for his action.
Shoaib Malik will lead the side in the lone Twenty20 match against Australia in Melbourne on Friday.