Virender Sehwag, who underwent successful surgery on his shoulder in London last week, is expected to be fit before the important tour of England, according to the star player's childhood coach A N Sharma.
"He spoke to me after surgery and informed that it went off well. He is hopeful he will recover in time for the England series," Sharma said on Tuesday.
Asked whether he would be able to bowl his off-breaks again, Sharma replied: "That completely depends on how quickly he gets the strength back in his shoulders.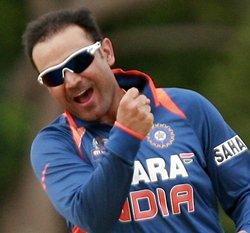 "He will have an extensive rehabilitation programme at the NCA in Bangalore. Hopefully, everything will be fine."
Sehwag left the IPL campaign after playing 11 matches, as Delhi Daredevils were out of the race for play-offs.
The injury he sustained is known as slap lesion or labrun tear (shoulder blade tear). It happened during the 2009 IPL and it subsequently ruled him out of that year's Twenty20 World Cup.
His surgery was conducted by renowned British surgeon Andrew Wallace, who had earlier successfully treated Sachin Tendulkar's tennis elbow.
The former India vice-captain is likely to return to London after a month-and-a-half for a thorough check-up.