Zimbabwe completed only their 11th Test victory with a dramatic 24-run win over Pakistan at Harare Sports club on Saturday to draw the series 1-1.
It was Zimbabwe's first Test win over any team except Bangladesh since 2001.
The visitors started the final day on 158 for five wickets, still requiring 106 runs for victory, and were kept in the game by captain Misbah-ul-Haq's unbeaten 79.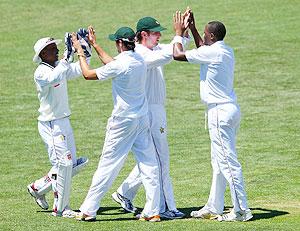 Zimbabwe kept chipping away at the wickets, however, with seam bowler Tendai Chatara claiming his first five-wicket haul in Tests and finishing with career best figures of five for 61.
Pakistan whittled the victory target down to just 26 with eight wickets down before the arrival of the new ball just after lunch sealed the win for Zimbabwe with two wickets in three balls.
Chatara found extra bounce from the placid track to have Junaid Khan (1) caught in the gully by Malcolm Waller, and the calamitous run out of Rahat Ali (1) ended Pakistan's hopes.
"Finally beating a world-class team is a wonderful feeling, especially for our bowlers. We haven't had a bowling coach in six months, so massive credit must go to them. Everyone contributed, but there is still room for improvement," an elated Zimbabwe captain Brendan Taylor said a TV interview after the game.
Misbah was full of praise for the home side.
"Zimbabwe deserved the victory, they played excellent cricket in the first Test and this one. Even from the start they were positive, they had us under pressure throughout the game," Misbah said.
"The positives for us is the bowlers, but batting is a little bit of a worry, the batsmen have to learn from their mistakes. You can't win Test matches scoring 20s and 30s."
The victory was Zimbabwe's third against Pakistan in Tests, but first since 1998.
Their last win over one of the world's top Test-playing nations was against India in 2001, though they have beaten Bangladesh on four occasions since, the last a crushing 335-run victory in April.
Scoreboard:
Zimbabwe, first innings, 294
Pakistan, first innings, 230
Zimbabwe, second innings, 199
Pakistan, second innings (overnight 158-5)
Khurram Manzoor c Waller b Utseya 54
Mohammad Hafeez c Vitori b Chatara 16
Azhar Ali b Chatara 0
Younis Khan b Vitori 29
Misbah-ul-Haq not out 79
Asad Shafiq c Mutumbami b Utseya 14
Adnan Akmal lbw b Chatara 20
Abdur Rehman c Mutumbami b Panyangara 16
Saeed Ajmal lbw b Chatara 2
Junaid Khan c Waller b Chatara 1
Rahat Ali run out (Masakadza) 1
Extras (lb2 nb1, w4) 7
Total (81 overs) 239
Fall of wickets: 1-30, 2-46, 3-90, 4-100, 5-133, 6-163, 7-197, 8-214, 9-238, 10-239.
Bowling: Panyangara 16-3-43-1, Vitori 22-5-69-1 (1w), Chatara 23-2-61-5, Utseya 19-2-62-2, Masakadza 1-0-2-0.
Photograph: Hagen Hopkins/Getty Images