Former Test cricketer Sanjay Manjrekar today said cricket should be kept away from politics and called for the revival of India-Pakistan ties in the best interests of the game.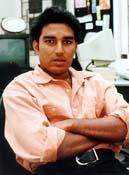 "Cricket should not be linked to political instability," Manjrekar, who did the commentary for the Test series between Pakistan and Bangladesh, was quoted as saying by the Associated Press of Pakistan.
"Games between the two countries should continue. That is what the people of both countries are looking forward to.
"Cricket is just a game and a game should be played for the sake of itself and not for politics."
Manjrekar said that with the revival of cricket between the two neighbours, mutual understanding in other sectors would develop faster.
Manjrekar, who made a nightmarish Test debut against the West Indies in 1987, getting knocked down by a Winston Benjamin bouncer at his home ground, Bombay's Wankhede stadium, made a remarkable comeback with a gritty century against the Carribeans on the return tour a year later.
The son of illustrious cricketer Vijay Manjrekar, he went on to score three more hundreds and nine half-centuries in a decade-long career.
Manjrekar's technically sound batting was instrumental in India earning a respectable 0-0 draw in the four-Test series in Pakistan in 1989.
Asked why cricket ties are not given the all-clear when steps are being taken to improve bilateral relations, Manjrekar said India's sporting relations with Pakistan had improved a lot as the junior and senior hockey teams were playing each other.
"First there should be cricket between the two countries at the lower level so that the game could take roots in the lower tiers," he said.
Pakistan Cricket Board chief executive Rameez Raja, who held the microphone alongside Manjrekar in the commentary box, hoped the resumption of cricket tours by other international teams would pave the way for India's visit, scheduled for early next year.
"The Bangladesh team is here and with South Africa and New Zealand to follow this season, we are optimistic about the future of cricket in Pakistan," Raja said.
Raja will be in Mumbai next month to attend a meeting of the cricket committee of the International Cricket Council.
"I believe, given the media interest, it is the best time to get across Pakistan's point of view to the people of India on cricket relations," he said.