Young Indian-origin Australian fast bowler Gurinder Sandhu has reportedly received a special marketing contract from Cricket Australia (CA) as it aims to attract more Australians of Asian descent to the game.
According to the Sydney Morning Herald, CA is anxious to steer away from the stereotype of the game attracting largely white middle-class males and has therefore decided to award such contracts.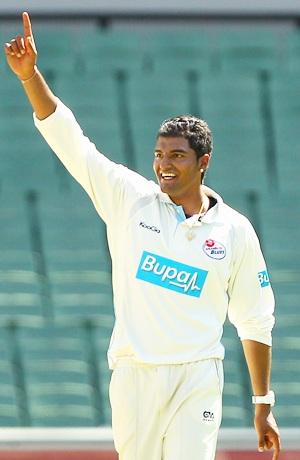 Not yet 20 and a veteran of just two first class matches, the Blacktown-born player, whose family comes from India, is the type of success story CA is desperate to promote, particularly in Sydney's diverse western suburbs.
Sandhu has the perfect link to Sydney's western suburbs as a member of the Thunder Big Bash team, which is being significantly upgraded under the leadership of Michael Hussey this year.
Sandhu, who is the first male player of Indian heritage to represent New South Wales (NSW), as a junior cricketer in Blacktown highlight what an untapped cricket resource western Sydney appears to be, with 50,000 Indians a year now migrating to Australia.
Along with, Ashes hopeful Fawad Ahmed has also received a special marketing contract from CA, and the report added that the refugee Pakistani player could yet join Australia's Ashes squad if new citizenship laws are passed this week.
Image: Gurinder Sandhu
Photograph: Robert Prezioso/Getty Images