Former India captain Kapil Dev has opposed Sachin Tendulkar's idea of splitting one-day international matches into four innings with 25 overs each and said the proposal a "pre-mature" one. 
"It's pre-mature to think of splitting ODIs. Each format of the game - Test, one-dayers and Twenty20 - will remain to exist and the popularity will remain," said the 1983 World Cup winning captain.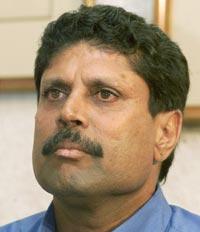 However, Kapil heaped praise on Tendulkar for his match-winning 44th century and said, "He is a great player and is very passionate about the game. If he is fit, he can continue as long as he wants. It's up to him to decide when to retire."
Tendulkar cracked 138 to help India lift the title. 
Kapil cited the example of the Compaq Cup final that India won against Sri Lanka by 46 runs and insisted that one-day format becoming more attractive with every passing day.
"Did not you see the match and the interest it generated? Interest in ODIs is improving day by day and TV revenues are also increasing...," he said.
Kapil hails Ganguly's decision
Hailing Sourav Ganguly's decision to enter cricket administration, Kapil said former players like him are best suited for the role, not the politicians.
Taking an indirect dig at the BCCI's mandarins who have political affinities, the World Cup winning captain said, "Politicians should do politics, like doctors in medicine and engineers in engineering."
"Ganguly is a great cricketer and I believe he would do justice to cricket administration. If great cricketers like him do not get into the cricket administration than who else should? Cricketers should take a cue from Ganguly and run the show for the betterment of the game," said Kapil. 
Having retired from the international cricket last year, Ganguly had said he wanted to join cricket administration. 
The southpaw from Bengal has already entered into the Cricket Association of Bengal's Annual General Meeting and working committee this year, representing different clubs. 
Ganguly is also the chairman of the CAB's newly formed cricket development committee.