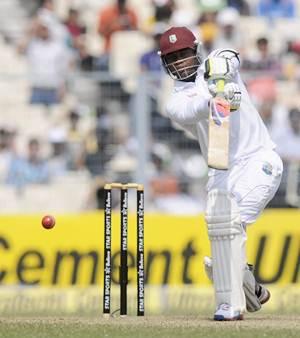 West Indies batsman Marlon Samuels praised India's 'disciplined' bowling on Day 1 of the first Test at the Eden Gardens on Wednesday, saying the bowlers did not give his side an inch after they opted to bat first.
"To be honest, the Indian bowlers didn't give us anything. They were very disciplined the way they bowled. They attacked the stumps. When you go out there, you have to work very hard to get some runs. I backed myself and took my chance early," said Samuels, at the end of the day's play, during which debutant India pacer Mohammed Shami picked four wickets for 71 runs as the West Indies were dismissed for 234.
Samuels, who top-scored for the tourists with 65, said the Indian bowlers were more penetrative after the ball was changed.
"It was pretty easy going till the ball changed. Then it started doing a little bit more."
He was all praise for Shami.
"I've only seen Shami in a one-day game. For him to come into a Test match... everybody deserves a chance, you know. You can't look at someone and say he's a one-day cricketer. He got his opportunity and made full use of it. That's the way cricket goes. Nothing surprises me in cricket.
"As the game progressed, he came into his own and did what he does best. He was in-swinging the ball and, later on, getting the ball to shape away as well. The future for young Shami is looking very good," he said.
Samuels expressed disappointment at the team not having capitalised on winning the toss.
"The fast bowlers and even the spinners, when they got some turn, there was some awkward bounce. Some kept low. The bounce wasn't consistent, but it's still a good pitch to bat on," he said, adding, "When you come to India, you want to score at least 400 in your first innings. That sets up the Test match. But when you get bowled out on the first day after winning the toss, you'll be very disappointed.
"It's something to discuss when you go back to the dressing room. But the runs are on the board already. It's for us to go out there and defend it as a team."
Asked about his own effort, he said: "My batting's come together. I've been scoring runs consistently. If you can score runs in England, it gives you the confidence to take your career forward.
"It's a very tough place. These conditions are similar to West Indies, where the ball doesn't move much except for reverse swing. I'm just enjoying cricket and having fun -– loving Test cricket, the best cricket."
Earlier, before the match began, both teams lined up on the field to honour Sachin Tendulkar, who is playing his 199th and penultimate Test.
Describing Tendulkar as the greatest batsman ever, Samuels said: "We had a little ceremony in the morning, on the ground. For me, Sachin is the greatest cricketer that ever played the game. He's a legend. To share the same field with him is a pleasure.
"While batting, when he came very close, I had something to say. As usual, he responded with his very soft voice," he added.
Image: Marlon Samuels
Photograph: BCCI