Sachin Tendulkar will sign off from cricket after 24 glorious years in the second Test against the West Indies, starting at the Wankhede stadium, in Mumbai, on Thursday.
Going into the match, his 200th Test, the batting icon has 15,847 runs, the most by a batsman. He also has the most centuries (51). However, the last of them came almost three years back, against South Africa in Cape Town.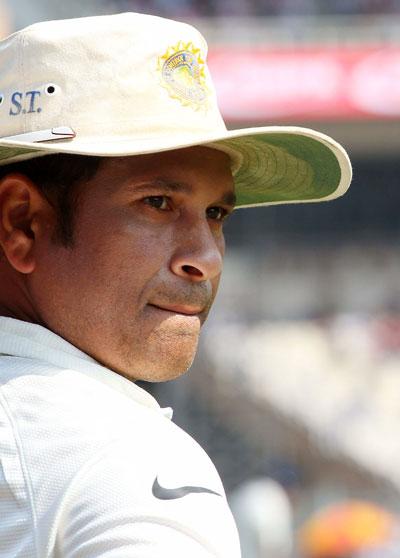 Two years back when India faced the West Indies at the Wankhede, Tendulkar was on the verge of scoring a 100th international hundred. He came tantalizingly close, getting out in the 90s.
A hundred in his final Test might just be the perfect farewell gift for his home fans. It is long overdue in any case. The Master Blaster has just one Test hundred to his name at the Wankhede.
The second Test gives him a perfect opportunity to add a second, and sign off on an emphatic note.
-Farewell Sachin... write a postcard to the batting icon
Rajneesh Gupta looks at his record at the Wankhede stadium.
| | | | | | | | | |
| --- | --- | --- | --- | --- | --- | --- | --- | --- |
| | Mts | Inns | NO | Runs | Hs | Avg | 100 | 50 |
| Test cricket | 10 | 18 | 0 | 847 | 148 | 47.06 | 1 | 7 |
| Ranji Trophy | 19 | 28 | 4 | 2353 | 233* | 98.04 | 11 | 8 |
| Irani Trophy | 3 | 4 | 2 | 295 | 140* | 147.50 | 2 | 0 |
| Other first-class cricket | 1 | 1 | 0 | 39 | 39 | 39.00 | 0 | 0 |
| All first-class cricket | 33 | 51 | 6 | 3534 | 233* | 78.53 | 14 | 15 |
| | | | | | | | | |
| One-Day Internationals | 11 | 11 | 0 | 455 | 114 | 41.36 | 1 | 3 |
| Wills Trophy | 1 | 1 | 1 | 9 | 9 | 9.00 | 0 | 0 |
| Vijay Hazare Trophy | 4 | 3 | 1 | 174 | 120* | 87.00 | 1 | 1 |
| All list A cricket | 16 | 15 | 2 | 638 | 120* | 49.07 | 2 | 4 |
| | | | | | | | | |
| IPL | 23 | 23 | 2 | 726 | 100* | 34.57 | 1 | 3 |
| All Twenty20 cricket | 23 | 23 | 2 | 726 | 100* | 34.57 | 1 | 3 |
| | | | | | | | | |
| All recognised cricket | 72 | 89 | 10 | 4898 | 233* | 62.00 | 17 | 22 |
Tendulkar in Tests at the Wankhede
| | | | |
| --- | --- | --- | --- |
| Performance | Opponents | Season | Result |
| 78 | England | 1992-93 | Won |
| 34 & 85 | West Indies | 1994-95 | Won |
| 148 & 13 | Sri Lanka | 1997-98 | Drawn |
| 97 & 8 | South Africa | 1999-00 | Lost |
| 76 & 65 | Australia | 2000-01 | Lost |
| 35 | West Indies | 2002-03 | Won |
| 5 & 55 | Australia | 2004-05 | Won |
| 1 & 34 | England | 2005-06 | Lost |
| 94 & 3 | West Indies | 2011-12 | Drawn |
| 8 & 8 | England | 2012-13 | Lost |
Summary of Tendulkar's Tests at Wankhede
| | | | | | | | | |
| --- | --- | --- | --- | --- | --- | --- | --- | --- |
| Opponents | Mts | Inns | NO | Runs | Hs | Avg | 100 | 50 |
| Australia | 2 | 4 | 0 | 201 | 76 | 50.25 | 0 | 3 |
| England | 3 | 5 | 0 | 129 | 78 | 25.80 | 0 | 1 |
| South Africa | 1 | 2 | 0 | 105 | 97 | 52.50 | 0 | 1 |
| Sri Lanka | 1 | 2 | 0 | 161 | 148 | 80.50 | 1 | 0 |
| West Indies | 3 | 5 | 0 | 251 | 94 | 50.20 | 0 | 2 |
| TOTAL | 10 | 18 | 0 | 847 | 148 | 47.05 | 1 | 7 |