Caddick vows to make England return
Andrew Caddick has insisted he will resume his England career even though a back injury has ruled him out for the rest of the season.
"I know what some people's reaction will be to the news that I am out for the summer," fast bowler Caddick wrote in today's Daily Express. "At 34 they will presume I am finished as a Test cricketer.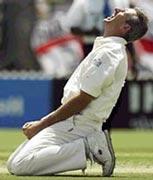 "Well, I'm not. I still believe I am the best bowler in this country and I intend to prove it in an England sweater again," the New Zealand-born quick added.
Somerset paceman Caddick, who announced his retirement from one-day international cricket after England's first round exit at the World Cup with the aim of prolonging his Test career, has a prolapsed disc in his back.
On Wednesday, he was ruled out of England's forthcoming five Test home series against South Africa.
He explained that his back problem had been aggravated by the stress fracture he'd suffered in his right foot.
Yorkshire fast bowler Gough, 32, said of Caddick: "He's been a great partner for me with the ball and I've been a great partner for him.
"I hope he gets back," Gough also told the Express. "I've always admired the way he has bowled throughout his career. He has tremendous talent."
Caddick has played 62 Tests for England, taking 234 wickets at 29.91.
But this season he has only played one county championship match and a single limited overs game for Somerset because of injury.
Bangladeshi schoolboy killed for breaking cricket trophy
Angry members of a school cricket squad battered a teammate to death after he accidentally smashed a newly won trophy in northern Bangladesh, news reports said today.
The teenage victim, identified only by one name, Rajiv, was killed after the team won the steel and wood trophy Monday in Gazipur town, 30 kilometers north of the Bangladesh capital Dhaka, Ittefaq newspaper reported.
Rajiv was waving the trophy with one hand when he dropped it onto a concrete pavement near the school, the paper said. The prize broke into several pieces.
Cheering teammates suddenly turned angry and beat Rajiv with iron rods and wooden sticks, leaving him seriously injured. He died on the way to a hospital.
Police arrested seven teenage boys for their alleged involvement in the attack, the paper said, without giving further details.
Police officials were not immediately available for comment.
In Bangladesh, cricket is the second-most popular sport after soccer.
Ashes not everything, says Marsh
Rodney Marsh has said that England should not worry too much about the next Ashes series but concentrate their energies on peaking for the 2007 World Cup.
Former Australia wicket-keeper Marsh, now an England selector and the head of the country's cricket academy, was speaking at Headingley after the provisional 15-man academy squad was announced.
"The mission statement of the ECB (England and Wales Cricket Board) is to be the best team in five-day cricket in the world and win the World Cup in 2007.
"In 2005, a 2-2 draw (in the Ashes series) would be a nice platform to build on," added Marsh, who said the academy squad would be selected with the accent on one-day cricket.
England have not won an Ashes series against Australia, now the best team in the world, since Mike Gatting's men won 'down under' in the 1986-87 season.
Hutton's South African cricketing nemesis dies
The first ever Test cricketer to be given out for handling the ball, South Africa's Russell Endean has died aged 79 at his home in England on Wednesday.
Endean played 28 Tests between 1951 and 1958 recording his best series against Australia in the five Test series in 1952-53 when he scored 438 runs including a top score of 162 at an average of 48.66.
He was given out for handling the ball off Jim Laker in a Test against England in South Africa in 1956-57.
He will also be remembered for being involved in the first ever dismissal for obstruction which took place on the only time he kept wicket against England in 1951.
Legendary England batsman Len Hutton swatted the ball away from his stumps and stopped Endean from catching the ball which led to the Englishman being dismissed.
The Australian series though was free of such controversy as Endean's batting went a long way to drawing the series 2-2 which was the first time the South Africans had avoided defeat against the Aussies in eight series.
Bangladeshis ditch training for day at theme park
Bangladesh's modest-achieving cricketers return to work on their Australian cricket tour tomorrow after a day trip to a Gold Coast theme park.
The Bangladeshis face the Australian Cricket Academy in a three-day match at Allan Border Field as they prepare for their Test and limited overs series against Australia.
After a 29-run loss to the Queensland Academy of Sport in their tour opener in Brisbane last weekend, the world cricket minnows took time out from match practice this week at the theme park.
"We had to get away from cricket," Bangladesh coach Dav Whatmore said today.
Bangladesh play a national academy side comprising four players with Sheffield Shield experience - Western Australian trio Scott Meuleman, Luke Ronchi and Peter Worthington plus South Australian Mark Cleary.
"We're looking to improve in every department and get accustomed to the conditions as best as we can and just to play some good percentage stuff," Whatmore said.
Waugh not short of motivation against Bangladesh
Australian skipper Steve Waugh today said that motivation would not be a problem for his world-beating side when they take on minnows Bangladesh in a two-Test series later this month.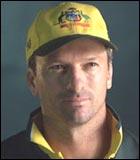 "Motivation will not be a factor against Bangladesh. Playing for your country is in itself enough motivation," Waugh told newspersons after visiting Udayan, a home for children of leprosy patients, here.
Describing the coming series as an "exciting experience", the 38-year old Aussie said, "Anytime you play a new country it is a new challenge".
Bangladesh, who have lost 18 out of the 19 Test matches they have played since attaining Test status in 2000, are already in Australia and would play two back-to-back Test matches from July 18.
Disgraced Warne still Mr Popular
Disgraced Australian Test cricketer may be sitting out a 12-month drug ban, but he remains popular with sports fans down under.
Warne tested positive to a banned diuretic last February and was suspended from cricket for a year.
But the 33-year-old leg-spinner, whose controversial career has embraced phone sex with an English nurse, abusing teenage spectators for taking photos of him smoking and accepting money from bookies for pitch information, has come out on top of a magazine poll.
Warne, one of Wisden's five greatest players of the 20th Century, has provided Australian men's favourite sporting moment, according to a poll by magazine FHM.
Over 5,000 people, including sportspeople, fans and administrators, voted on the most historic sporting moments in Australian history and Warne was the clear winner.
Few if any characters in Australian sport can match Warne's exploits.
The leg-spinner featured on most entries, Bastic said.
"We were looking more for things that made the front page of the newspaper rather than the back page.
"Anything controversial, or they had to be a character. They were the criteria."
Smith doubtful of England match
South Africa captain Graeme Smith could miss tomorrow's triangular one-day series match against England here at Old Trafford with a shoulder injury.
The 22-year-old fell awkwardly on his left shoulder while running back trying to take two catches in South Africa's 46-run triangular win over Zimbabwe at Canterbury on Sunday.
He took no part in training at Old Trafford on Wednesday and a decision on the left-handed opening batsman's fitness for the day/night match will be delayed until Thursday morning.
Smith told reporters at Old Trafford today: "I am carrying a bit of a shoulder injury. I am optimistic about playing but I don't know if the physio is. It (the injury) has definitely come on a lot since Monday.
"If I do play, I'll be playing in pain, but I'm ready to give 100 per cent.
South Africa went down to a six-wicket defeat in their opening triangular match against England at The Oval on Saturday.
But Smith insisted he attached no greater importance to tomorrow's match than any other. "Every game is a big game for us."
He also said his team had learned lessons from their defeat by England where they were on the receiving end of a blistering assault by openers Marcus Trescothick (114 not out) and Vikram Solanki (106).
"We didn't get our bowling disciplines right. Credit to them, they really played well. But everything they did came off for them. On another day they might have given a catch.