As former Australia captain Ricky Ponting announced his retirement from Test cricket, farewell messages poured in from all over.
- 'If we get on top, no better time for me to bow out'
Here is how Twitter reacted to the news of Ponting's retirement.
- Ponting to retire from Tests after Perth match
- India's Virat Kohli tweeted: 'Ricky ponting what an absolute legend. Iam glad I had the honour of playing against him. Take a bow #legend #respect".
- England batsman Kevin Pietersen was among the many international cricketers who joined the chorus of tributes as Ponting pulled the pin on his 167-Test career.
- 'RETIRES.... ONE OF THE GREATS! I always got excited playing AUS, so I could watch him bat up close. Well done Punter!" Pietersen tweeted.
-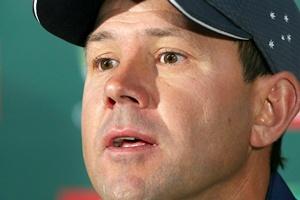 Brett Lee, who played with Ponting wished his old teammate well as he took to the field for the final time.
'Congrats Punter on a fantastic career, enjoyed playing along side you! Go out with a bang mate!' Lee tweeted.
- Ponting's teammate David Warner wrote: 'Well done to Ricky and his family, has been an outstanding career and will be missed by everyone! #legend".
- An emotional Australia captain Michael Clarke said it was a surprise to the team when his predecessor and mentor announced his impending retirement.
'That'll be enough for me today,' he said, after a long pause, as he struggled unsuccessfully to contain his emotions.
Photograph: Paul Kane/Getty Images