Recently retired batting greats Ricky Ponting and Mike Hussey have both ruled out returning to the Australia team for the back-to-back Ashes series against England this year.
Former captain Ponting, 38, retired from Test cricket last November after scoring 13,378 runs at 51.85 in 168 Tests and 37-year-old Hussey (6,235 at 51.52 in 79 matches) followed suit after the series against Sri Lanka over the New Year.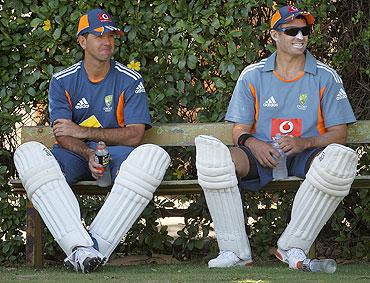 With Australia struggling on and off the pitch in India, and both players enjoying fine form in domestic cricket, there was plenty of talk about coaxing them of out retirement.
Ponting, who lost three Ashes series as Australia skipper, was named Sheffield Shield Player of the Year after averaging 87.5 for his state Tasmania this year but quickly moved to quash any idea of a Test comeback.
"International cricket's long passed me by and I've just been really excited about giving back to Tasmanian cricket whatever I could for this season," Ponting said.
"The decision you make to retire when you do is a very big one. I know I put a lot of time and thought into making the decision that I made for all the right reasons."
Hussey enjoyed a prolific last Test season as he shored up the Australian middle order with captain Michael Clarke but was equally dismissive when asked about potentially pulling on the baggy green cap once again.
"It's extremely flattering but I've moved on and I really don't want to be back in that pressure-cooker environment, particularly leading into the Ashes," Hussey told reporters in Perth this week.
"It's going to be an extremely stressful time for all the boys. I'm really looking forward to having a winter at home and just having some time with the family and being part of some normal life.
"People probably take it for granted, but I absolutely love knowing that I get to come home every day rather than going to another hotel room or another airport.
"I feel very lucky to have been able to leave on my own terms and leave when I wanted to."
In order to take the Australia-hosted Ashes out of its previous position in the international cricket calendar immediately ahead of the 50-overs World Cup, the home and away series will be played back-to-back this year.
England won the Ashes on home soil in 2009 and retained the trophy with a convincing 3-1 triumph in 2010-11, their first in Australia for nearly a quarter of a century.