Rest of India won the Irani Cup for a sixth consecutive time on Wednesday, crushing a hapless Rajasthan by 404 runs with a superb bowling performance on the fifth and final day in Jaipur.
With Rest of India having already secured victory after taking the first innings lead, Rajasthan's only aim was to avoid an outright defeat, but they failed due to disciplined bowling by their opponents.
Left-arm spinner Pragyan Ojha led the charge, with four wickets for 60 runs, for a match haul of nine wickets.
Pacer Umesh Yadav and leg-spinner Rahul Sharma chipped in with two wickets apiece, while pacers Vinay Kumar and Varun Aaron got a wicket each.
Resuming at 28 for no loss, Rajasthan offered brief resistance in the morning session before folding after tea for 213 in 73.2 overs.
Lower-order batsman Madhur Khatri top-scored with a 53, while Rashmi Parida contributed 37.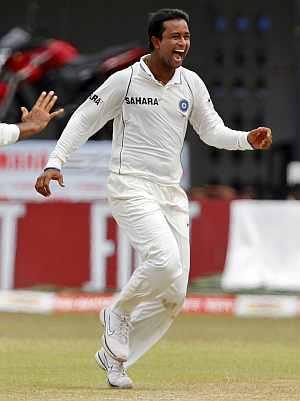 With the target out of reach, Rajasthan had only one option -- to save the match. It looked possible when opener Aakash Chopra and Vineet Saxena resisted Rest for nearly an hour in the morning session.
The breakthrough, however, came when Chopra failed to negotiate a turning ball off Ojha and Ajinkya Rahane took a fine catch at slips.
Chopra's 26 was off 69 balls, and had five fours in it.
One-down Hrishikesh Kanitkar did not last long; he was out three overs later for just one, Yadav extracting extra bounce and the batsman edging the ball to wicketkeeper Parthiv Patel.
Midway into the morning session, two wickets fell, with Vinay Kumar first bowling Saxena (17), and, then, Ojha winning an LBW shout against Robin Bist (18) after the batsman missed an attempted sweep off a full length delivery.
Two wickets fell just after resumption in the post-lunch session and with that Rajasthan's resistance virtually ended.
Ashok Maneria (21) was out in the first over after lunch off Yadav, and, then, Rahul Sharma trapped Rohit Jhalani leg-before-wicket with a flipper for a duck.
Parida halted Rest of India's charge for a while before he was out midway into the second session off Ojha, holing out to Rahul Sharma at mid-off. His 37 came from 82 balls and had five fours in it.
Just before the tea break, Rahul Sharma scalped his second wicket of the day, cleaning up Deepak Chahar's furniture to put Rest on the brink of victory.
It took barely 20 minutes for the remaining two Rajasthan wickets to fall.
Khatri punished Aaron with a boundary to bring up his 50, but, off the next ball, the bowler had the last laugh as he induced the batsman into an edge for Abhinav Mukund to take the catch at third slip.
Khatri's 53 came from 98 balls and had nine fours in it.
Ojha then bagged his fourth wicket of the innings, and ninth of the match, having Sumit Mathur stumped-out by Patel after the bastman charged down the track for a big hit only to miss it.
Scorecard:
Rest of India (1st innings): 663 all out
Rajasthan (1st innings): 400 all out
Rest of India (2nd Innings): 354/2 decl
Rajasthan (2nd innings): (target: 618 runs)
Aakash Chopra c Rahane b Ojha 26
Vineet Saxena b Vinay 17
Hrishikesh Kanitkar c Patel b Yadav 1
Robin Bist lbw b Ojha  18
Rashmi Parida c Sharma b Ojha 37
Ashok Menaria c Patel b Yadav 21
Rohit Jhalani lbw b Rahul  0
Madhur Khatri c Mukund b Aaron 53
Deepak Chahar b Rahul  5
Sumit Mathur  st Patel b Ojha  8
Aniket Choudhary not out 3
Extras: (b-17, lb-4, w-2, nb-1) 24
Total: (all out in 73.2 overs) 213
Fall of wickets: 1-48, 2-49, 3-73, 4-73, 5-125, 6-126, 7-163, 8-186, 9-209
Bowling: Vinay Kumar 13-3-25-1, Varun Aaron 16-7-44-1, Pragyan Ojha 22.2-6-60-4, Umesh Yadav 8-5-14-2, Rahul Sharma 14-3-49-2.