Pakistan all-rounder Abdul Razzak was fined Rs 100,000 on Friday for his outburst against the team's T20 captain, Mohammad Hafeez, after the ICC World Twenty20 event.
Razzak had accused Hafeez of deliberately not selecting him for the World Twenty20 semi-final against Sri Lanka though the team management wanted him to be included.
The PCB issued Razzaq a showcause notice last week asking him to explain his comments about Hafeez. Razzaq apologised for the remarks but was still fined.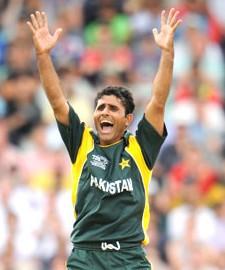 "I accept my mistake for breaching the code of conduct," Razzaq told reporters after a meeting with PCB chairman Zaka Ashraf.
"I never had any problems with Hafeez and I accept that my outburst against him was unfair. I have already apologized for it," Razzaq added.
Soon after the Pakistan team returned from the T20 event in Sri Lanka, Razzak criticised Hafeez for play him in just one match through the tournament.
Hafeez insisted that axing Razzaq from the final eleven was a decision taken by the team management.
"He is our asset and has been serving Pakistan for long," Hafeez said.
"I don't want to say much about what he said about me, but I insist that the decision not to play him was taken by the team management.
"He is not only senior in age but also in experience. Whatever happened is in the past now. Cricket must go on. I wish the best for Razzaq and the Pakistan team," he said.