He isn't in the best of form of late, and his body language on his first day with the Delhi Ranji Trophy squad said it all!
Virender Sehwag's looked pretty rusty during his first session at the state team's nets, where seasoned pros like Ashish Nehra and Ishant Sharma, and other net bowlers, troubled him with pace and bounce.
On Novemeber 4, 2012, the 'Nawab of Najafgarh' will complete two years in Test cricket without a century, his last (173) coming against New Zealand on November 4, 2010, in Ahmedabad.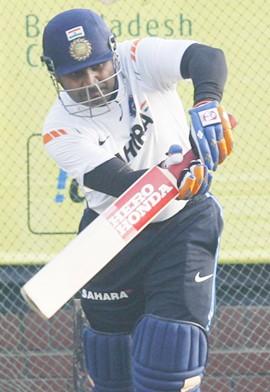 There are times when a player who is not middling the ball well in the nets goes on to play a good innings in match situations, but there are more reasons to worry when a net bowler unsettles a world-class batsman with a bouncer.
Virat Kohli might feel that "a good bouncer is a good bouncer" but the way the veteran played the delivery gave ample indication about the form Sehwag is in right now.
The delivery took off from short of good length area and Sehwag took his eyes off the ball and could have been knocked over. Somehow, he managed to keep it away.
The crafty Nehra has been bowling with a good rhythm in the nets and not for once did the Delhi skipper look like hitting a confident shot against the bowler. Nor was he comfortable while taking on Ishant.
Although he occasionally cracked a joke with seniors like Mithun Manhas and Rajat Bhatia, the veteran of 98 Tests wore a grumpy look for the better part of the session.
The opening Ranji Trophy game against Uttar Pradesh, from November 2-5 at Ghaziabad, will be an acid test for the 34-year-old who needs to fire against England for India to win the series 4-0.
Gautam Gambhir had recently said, 'we (he and Sehwag) are still the best opening pair in the country'. It's time action speaks louder than those words.