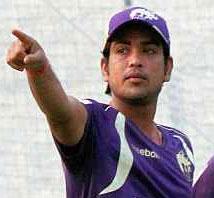 Laxmi Ratan Shukla, absolving his team of wrongdoing in the ill-tempered Ranji Trophy match, tells Bikash Mohapatra that what Railways captain Murali Kartik did was ethically wrong.
"I don't want to look back at it. I don't want to discuss the incident again," declared Laxmi Ratan Shukla.
On prodding, though, he opened up about the confrontation in the Ranji Trophy match between Bengal and Railways, which will go down as one of the worst in the history of Indian cricket.
"Obviously, I am disappointed," continued Shukla, adding, "And as a gentleman cricketer I have a right to be so, especially if your opponent does something that's against the spirit of the game."
Bengal's captain wasn't worried that his team dropped points in what was a crucial Ranji Trophy encounter. He seemed more concerned about the manner in which the game was played.
"Winning and losing isn't everything in sport. We need to play in the spirit of the game," lamented Shukla.
For starters, it started with Railways captain Murali Kartik 'Mankading' Bengal batsman Sandipan Das early on the third day, and things went from bad to worse thereafter, with the hosts playing all the mandatory overs and the visitors refusing the customary post-match handshake.
Shukla was adamant that what Kartik, his Railways counterpart and Kolkata Knight Riders' teammate in the IPL, did was ethically wrong.
"We have seen senior players like Sachin (Tendulkar) and Sourav (Ganguly) play. They never did anything like this," said Shukla, trying to justify his point.
When reminded that what Kartik did was well within the written laws of the game, Shukla got a tad emotional.
"If you talk of the cricketing manual, there are a lot of things we can, and should, do. But does that happen?' he asked, hastening to add, "A book cannot set the rules for what should happen on the field."
At the same, he absolved his team of any wrongdoing.
"We didn't do anything. The Railways did everything! They effected the run-out; they wanted to play the mandatory overs…"
Quizzed about his players' refusal to shake hands when the Railways' players approached them after the match, Shukla was defensive.
"We were busy with our drills then. They should have come afterwards. In any case, no book says that you should shake hands with your opponents once the match is over," he said.
The former India player also refused to settle the issue with Kartik.
"I don't think so. If he feels the need to settle it out, then he should come to me," he declared, proceeding to justify his stand.
"We are still friends. But, then, we are representing two different teams, and the team always comes first.
"My team took a decision. I stood by it then, and I stand by it now."
Image: Laxmi Ratan Shukla