Uttar Pradesh came back strongly to keep their hopes alive for an interesting finish as they needed another 278 runs with nine wickets in hand to register an outright victory over Karnataka in the Ranji Trophy quarter-final at Chinnaswamy stadium.
Batting first, Karnataka had scored 349 all out in the first innings with the help of Robin Uthappa, Karun Nair and Chidambaram Gautam's centuries.
In reply, UP declared their innings at 221 for nine and their bowlers came back strongly to skittle Karnataka for 204 in their second innings.
At the draw of stumps on Day Three, UP were 55 for one with Tanmay Srivastava and Ali Murtaza batting on 23 and 2, respectively.
Instead of resuming on their overnight score, visiting captain RP Singh gambled to declare the first innings and dealt early blows to Karnataka, who were left tottering at 73 for five in their second essay.
UP did extremely well to pick the first innings centurions - Uthappa (0), Nair (25) and Gautam (36)- cheaply, which shattered Karnataka's gumption to set up a difficult target for visitors to chase.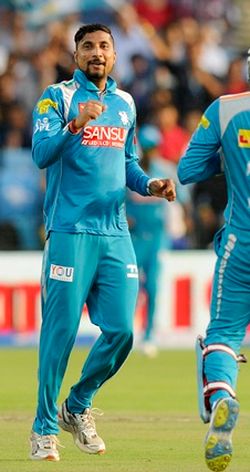 Lokesh Rahul, who has been the most consistent batsman for Karnataka, was the only exception who gave a strong reply to UP's bowling attack, but missed his chance to score his third century of the season by eight runs.
Rahul achieved the rare distinction of carrying his bat through against a spirited UP bowling attack, especially leg-spinner Murtaza who claimed six wickets.
Rahul stitched a crucial 63-run partnership and highest in Karnataka's second innings, along with Gautam for sixth wicket, bringing a sense of respectability to the hosts' score.
After Gautam's departure, the lower-order batsmen failed to give ample support to Rahul and the hosts lost last five wickets for the addition of 63 runs.
The star bowler for UP was Murtaza who scalped six wickets for 64 runs in 15.5 overs, which was his best performance in this season. He has claimed 19 wicekts from five matches so far.
Other wicket-takers were Ankit Rajpoot and Amit Mishra with two and one wicket respectively.
Chasing 333 runs, UP began their second innings on a strong note unlike their first innings when they had lost six wickets for 65 runs.
Openers Srivastava and Mukul Dagar (23) took past the team's score to fifty at a controlled pace, before the latter was removed by leg-break bowler Shreyas Gopal after he gave catch to Uthappa. Both were involved in 53-run stand for the first wicket, which both built in 92 balls.
As the match is evenly poised for an interesting finish, both teams would be in the race to wrest the initiative from each other.
Karnataka will be looking to take early wickets by using early morning conditions while UP will look to resume their chase on cautious note and go for the runs depending upon the situation.
Scorecard
Karnataka 1st innings: 349
Uttar Pradesh 1st innings: 221 decl
Karnataka 2nd innings:
R Uthappa lbw b Rajpoot 0
KL Rahul not out 92
R Vinay Kumar lbw b Murtaza 9
AA Kazi c Dwivedi b Murtaza 0
MK Pandey c Murtaza b Amit Mishra 6
KK Nair c Dagar b Rajpoot 25
CM Gautam run out 36
S Gopal c Dagar b Murtaza 9
R Samarth lbw b Murtaza 6
A Mithun b Murtaza 19
HS Sharath lbw b Murtaza 0
Extras (B 1, LB 1) 2
Total (all out in 66.5 overs) 204
Fall of wickets: 1-0, 2-11, 3-15, 4-33, 5-73, 6-136, 7-160, 8-178, 9-204.
Bowling: AS Rajpoot 17-9-30-2, Amit Mishra 16-4-55-1, AG Murtaza 16.5-2-64-6, P Chawla 17-4-53-0.
Uttar Pradesh 2nd innings: (target: 333 runs)
TM Srivastava not out 23
M Dagar c Uthappa b Gopal 23
AG Murtaza not out 2
Extras (B 4, LB 3) 7
Total (for 1 wicket in 18 overs) 55
Fall of wickets: 1-53
Bowling: R Vinay Kumar 8-3-18-0, A Mithun 7-1-25-0, R Uthappa 1-0-2-0, S Gopal 1-0-3-1, A Kazi 1-1-0-0.