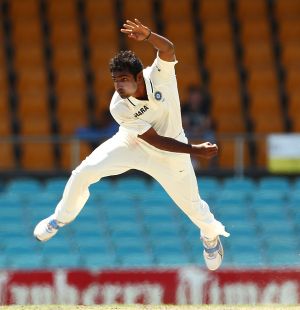 Seamers Abhimanyu Mithun and R Vinay Kumar wreaked havoc as Karnataka reduced Uttar Pradesh to 221 for nine, giving themselves a good chance to grab first innings lead, on the second day of the Ranji Trophy quarter-final match in Bangalore.
Mithun was the most successful bowler with figures of four for 70 but Vinay was the most difficult as he picked up three wickets after conceding 49 runs in 18 overs.
Mithun removed Prashant Gupa (0), Mohammad Kaif (0), Chawla (56) and Amit Mishra (4), while Vinay picked up Tanmay Srivastava (32), Mukul Dagar (13) and Eklavya Dwivedi (2).
Pacer H S Sharath and part-time spinner Robin Uthappa picked one wicket each. Sharath removed Ali Murtaza (1) caught behind by Gautam, who claimed first of the three catches in the day.
UP is still 128 runs behind Karnataka's first innings score of 349 and it is a clear-cut edge for the hosts as they have to get just one wicket at Chinnaswamy Stadium.
For UP, Parvinder Singh was the lone crusader with the bat as he missed his century by eight runs. He was the last man to be dismissed by part-timer Robin Uthappa. He made 92 runs off 181 balls with 13 boundaries.
The 110-run partnership between Parvinder (92) and Piyush Chawla (56) for the seventh wicket raised hopes for the visitors to wriggle out of the turmoil, but inform Mithun had the latter caught behind by Chidambaram Gautam to bring back the game in their favour.
Earlier, UP picked up five wickets for just 52 runs to restrict Karnataka to 349 runs after they had ended the opening day at 297 for five.
The saving grace for the hosts in the morning session was when Gautam became the third batsman in the innings to belt a century. He faced 118 balls to reach his well-crafted 100 by cracking 16 boundaries, before he was castled by a medium pacer from Amit Mishra.
Abrar Kazi and Mithun were the other two batsmen who reached double figures, before they were sent back into the dressing room for 23 and 13, respectively.
Scorecard
Karnataka 1st innings
R Uthappa st Dwivedi b Murtaza 100
K Rahul c Dwivedi b Rajpoot 0
R Samarth c & b Mishra 0
M Pandey c Kaif b Mishra 0
K Nair lbw b Murtaza 100
C Gautam b Mishra 100
A Kazi b Mishra 23
S Gopal c Dwivedi b Rajpoot 0
R Vinay Kumar not out 4
A Mithun lbw b Mishra 13
H Sharath c Gupta b Mishra 0
Extras: (lb-6, w-1, nb-2) 9
Total: (all out in 100.5 overs) 349
Fall of wickets: 1-14, 2-15, 3-15, 4-135, 5-297, 6-330, 7-331, 8-331, 9-349
Bowling: RP Singh 10.4-5-19-0, A Rajpoot 23-9-49-2, Amit Mishra 28.5-5-106-6, A Murtaza 20-3-92-2, P Chawla 15.2-0-62-0, P Gupta 3-0-15-0.
Uttar Pradesh 1st innings
T Srivastava lbw b Vinay Kumar 32
M Dagar c Pandey b Vinay Kumar 13
A Murtaza c Gautam b Sharath 1
P Gupta b Mithun 0
M Kaif b Mithun 0
Parvinder Singh c Gautam b Uthappa 92
E Dwivedi c Gautam b Vinay Kumar 2
P Chawla c Gautam b Mithun 56
Amit Mishra b Mithun 4
A Rajpoot batting 1
Extras: (b-11, lb-5, nb-4) 20
Total: (For 9 wkts in 70.3 overs) 221
Fall of wickets: 1-24, 2-48, 3-49, 4-57, 5-57, 6-65, 7-175, 8-221, 9-221
Bowling: R Vinay Kumar 18-2-49-3, A Mithun 17.5-3-70-4, H Sharath 10-3-20-1, S Gopal 11-2-30-0, A Kazi 11-1-30-0, M Pandey 2.1-0-6-0, R Uthappa 0.3-0-0-1.
Image: Abhimanyu Mithun
Photograph: Mark Nolan/Getty Images