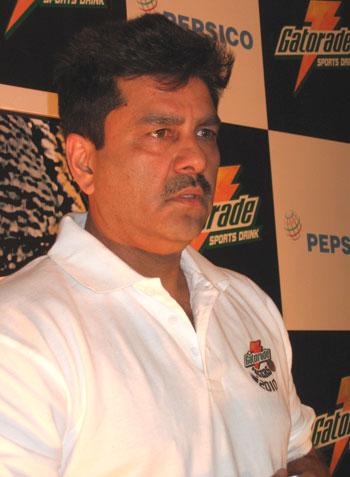 If India hopes to maintain its No 1 ranking in Test cricket and climb the ladder in ODIs, it is imperative that it improves its bench-strength, says former India all-rounder Manoj Prabhakar.
He is of the opinion that there should be three teams, one for each format.
"Give youngsters a chance to perform in T20s and ODIs. Once they prove themselves in the T20 and ODI format, then only they should be given a Test cap.
"We should have good bench strength -- something that is missing -- if we have to play top-level cricket," added the former Delhi coach, who has been entrusted the role of spotting a new generation of pace bowlers, in the Gatorade Pacers 2010 Talent Hunt.
Gatorade will pick players from over 1,500 sports clubs and schools in six cities. Camps will be held under different age-groups, and under each category the two best bowlers will be selected. Those who make the grade will not only have the opportunity to work under Prabhakar, but also be provided the best in-class training and conditioning to nurture their skills.
"Being part of this campaign is a challenge for me. It's a challenge, in that we are not only looking at speed, but accuracy. Variation and attitude are other criteria that budding players need to fulfill to get selected for this event.
"We in India have lots of fast bowling talent, but the search is missing. We need to unearth talent from the small towns, where most of the talent lies. We have to go to these places to give players the exposure and an opportunity to perform at a higher level. This campaign helps that cause," says Prabhakar.
One of the first few Indian bowlers to use the reverse swing to good effect, he conceded that India has failed to produce a tear-away fast bowler.
"To be a pace bowler one has to be athletic. We have bowlers like Sreesanth who are not athletes. And that is where we are losing out. But, most importantly, a bowler must get his basics right. You have to get your basics right to be effective and constantly strive to maintain that pace at a consistent level.
"We can be a hub of pace bowling if we want, but if our basics are not in place we will not get good pacemen to compliment our strong batting line-up," added the controversial cricketer, who was banned by the Board of Control for Cricket in India for five years in 2000 for his role in the match-fixing episode.
Prabhakar, who was in Mumbai on Tuesday, also rued the fact that India does not have surfaces conducive for fast bowling.
"Indian pitches give no positive results for bowlers. Our pitches don't have good soil. Good bowlers are coming out of the MRF Pace Foundation because Dennis Lillee, who was the coach at this nursery for fast bowling, helped create pitches made from hard soil to help bowlers become effective in training. Pace bowlers don't come with extra-ordinary talent. It's the pitch they play on that helps bring out their best".
Talking about Ishant Sharma, Prabhakar said, "He should work on his basics. He should control his left arm. When your wrist is not behind the seam then you are in big trouble. RP Singh has the same problem."
He advocated the need for a specialist bowling coach, saying the BCCI should look for home talent.
"You can't have any coach teaching bolwers the technical aspects of fast bowling. It's a professional job, a specialists' job. We need a specialist coach for bowling.
"It's nice when current players go to former Indian cricketers to find solutions to their problems. There is no shame in that. From past experience I've seen that we are obliging to foreign coaches. We also have good talent in India, so the BCCI should look to Indian coaches.
"BCCI employs foreign coaches, but where are the results? Why shouldn't the board give former Indian players a chance to become coaches? BCCI should use the expertise of retired players. If Sachin retires, say after two years, then he should be made chief coach of the NDA, so he can train youngsters."
Prabhakar said he can make a difference if the BCCI makes him the bowling coach.
"If BCCI gives me the opportunity to become India's bowling coaching I will show that I can make a difference
"BCCI is the richest cricket board in the world. Instead of putting that money on building stadiums they must spend that on creating academies and making sporting pitches."
With India playing just two Tests in 2010, Prabhakar slammed the cricketing calendar, saying too much of T20 is draining fast bowlers.
"Test cricket should be played regularly, only then will the players' characters be tested. Test match cricket is the real thing.
"There is so much T20 cricket these days; I call it tamasha cricket that is being played. There also are so many ODIs at a stretch. All this is obviously going to lead to player burn-out. Fitness levels of bowlers will drop. Not only will the wear and tear destroy bowlers, it will also hamper their confidence in the bargain."
Is someone listening?
Photograph: Norma Godinho