Former Australia [ Images ] captain Ricky Ponting [ Images ] overtook India's [ Images ] Rahul Dravid [ Images ] to become the second highest Test run scorer on Monday during the opening day of the third Test against West Indies [ Images ].
Ponting, who made his Test debut in 1995, moved past Dravid's career total of 13,288 shortly after tea.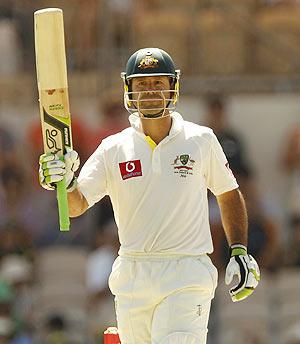 Ten balls after going one run ahead of Dravid, Ponting was dismissed for 23 without having added to his total.
The 37-year-old was caught by West Indies captain Darren Sammy at leg-slip off off-spinner Shane Shillingford.
India's Sachin Tendulkar [ Images ] has the highest total of Test runs with 15,470 at an average of 55.44.
Dravid retired from international cricket last month.