Ricky Ponting's celebrated Test career came to a close with a whimper rather than a bang on Monday when he was dismissed for eight runs to leave his beloved Australia heading for almost certain defeat against South Africa.
The 37-year-old former Australia captain, the second highest run scorer in Test cricket, said on the eve of his 168th match that it would be his last and he had hoped to go out on a high with a series win against the Proteas.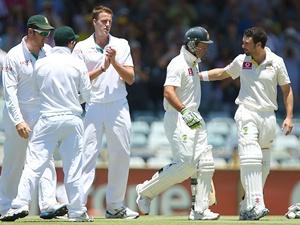 Those hopes had been dashed by two days of brilliant cricket from the best Test side in the world, which left Australia chasing 632 runs over the last two days of the match to secure an unlikely victory.
-Photos: Ricky Ponting walks off into the sunset
Welcomed to the crease at 11.46am local time by a guard of honour of applauding South African players, Ponting shook hands with Proteas captain Graeme Smith before tamping down the wicket with his bat.
The 37-year-old offered defensive shots and left one of the first five deliveries he faced before pouncing on the sixth with a vintage pull shot to propel the ball to the square leg boundary.
It was a rare flash of the Ponting who had dominated bowlers on so many occasions since he scored 96 runs on debut against Sri Lanka at the same WACA ground 17 years ago.
There was another with a second four, a drive to mid-on which reached the boundary courtesy of a misfield from Morne Morkel, but the end, when it came, was a soft dismissal unworthy of such a great batsman.
With lunch looming, he tried to cut South African spinner Robin Peterson but only managed to get a thick edge onto the ball which ended up in the safe hands of Jacques Kallis at slip.
Kallis with 44 and India's Sachin Tendulkar (51) are the only batsmen to have scored more Test centuries than the Tasmanian's 41.
Ponting did not hang around at the crease after his 40-minute knock but was mobbed by South African players wanting to shake his hand as he walked from the field.
He looked back only once, doffing his helmet and raising both arms to bask one last time in the applause of his compatriots.
The statistics which will now forever be appended to his name in the history books are 13,378 runs at 51.85, an average brought down by the two years of patchy form that ultimately convinced him it was time to call time on his career.
The most successful captain in the history of the game, Ponting will be remembered as an arch-competitor who ranks behind only Donald Bradman in the pantheon of Australian batsmen.
Photograph: Paul Kane/Getty Images
Also Read
Top Five Test Innings From Ponting
Figure out Ricky Ponting's Test & ODI career
Is Ponting 'best prepared player of modern game'?
Number Game: Ponting plays second fiddle to Tendulkar
Kohli, KP hail legend Ricky Ponting