England's dashing batsman Kevin Pietersen has been ruled out of the Indian Premier League because of an injury.
Pietersen, who plays for Delhi Daredevils, has been advised six to eight weeks' rest and rehabilitation, and withdrawn from all forms of cricket by the England Cricket Board.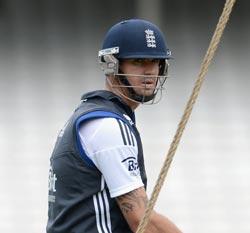 Pietersen suffered a knee injury during the ongoing tour of New Zealand and will return home immediately for treatment.
"England and Surrey batsman Kevin Pietersen has been ruled out of the remaining Test against New Zealand commencing Friday March 22 due to an injury to his right knee.
" Pietersen experienced knee pain while fielding in preparation for the 4-day game in Queenstown earlier this month, ahead of the Test series. This has failed to resolve satisfactorily," the ECB said on Wednesday.
"Recent scans confirm an injury to the right knee with bone bruising and possible cartilage damage to the kneecap. The 32-year-old will return to the UK for further investigations and specialist review.
"The injury is likely to require ongoing assessments and a likely 6-8 week period of rest and rehabilitation. Pietersen has therefore been withdrawn from all cricket including the Indian Premier League," it added.